By Karen Swank
It was a question that first made me think I was getting a little further away from home.
I had finally boarded my plane in New York, having missed my original connection and survived a slightly infuriating re-booking process, about which I told myself that I was on vacation, so it didn't matter (staying angry has never improved any situation I've been in yet, after all).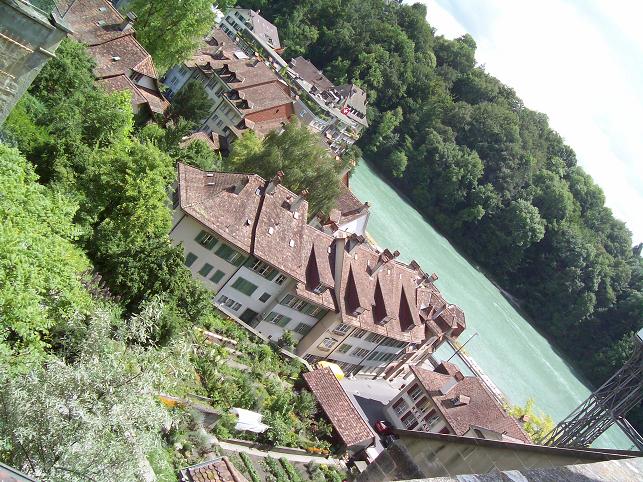 This was the biggest airplane I have ever experienced by far, sufficiently enormous to comfort me a bit in my fears regarding my first-ever trans-Atlantic trip. The flight attendant came down in the aisle, passing out customs forms and asking each passenger in her chipper voice, "Are you American, or are you British?"
Can't say I've ever heard that question before!
The plane from London Heathrow to Zurich was smaller, and the pilot started his spiel in German, repeating it in French, and finishing in English.
Definitely not in Illinois anymore.
And then there were the moving walkways in the airports. I've used them at O'Hare and other places, and it's always the same. Two signs at each end, and a booming pre-recorded voice repeating over and over the same message: "You are nearing the end of the walkway." Heathrow was mellower: one sign and no voice at all. But Zurich….ahhh Zurich. Apparently the Swiss believe I have a brain and can figure out the end of the walkway without such warning. Clearly I was arriving in a land of fewer lawsuits.
Taking a trip halfway around the world was, for me, a shift in perspectives on every level. While I am not a frequent flier, I have experienced a few US airports; they always feel like maybe they were built in the last year or two. London Heathrow feels like it is older than me…something I struggle to explain, but was very real to me. Zurich announced Swiss priorities to me before I even hit the ground; I marveled at little patches of forest between the runways, and grass growing on the roof of the building I saw there.
Deplaning in Zurich, I stepped into a gleaming world. In Switzerland, everything is the kind of clean that speaks of focused intention. Everywhere feels well swept and recently scrubbed. True in the airport, in the train stations, on the streets, and even in the many tunnels. I think here in the US, we take our space for granted because there is so much of it. Switzerland is utterly populated, through and through, as far as I could tell. It's a whole lot of people, living in a very small space (quite a bit smaller than Illinois), and they seem to have figured out how to manage keeping it beautiful.
I never saw a single paper cup while I was in Switzerland. Not one. I am not making that up! I mean, they must surely use them somewhere. But everywhere I went (and I experienced A LOT of cafes and restaurants in my short time there), we used real dishes. We never ate or drank in the car (not that we used the car much; trains, bikes and walking are more the norm). One can be ticketed for the distraction of eating in a car there, believe it or not. Confession: I, who eat and drink in my car all the time, think that is a beautiful idea. We did a 2 day road tour along the French and Italian borders (more on that later), and every time we needed refreshment, we stopped the car, got out, and lounged comfortably outside a cafe under an umbrella.
One of the biggest differences I noticed between Switzerland and home was how much littler everything is there. The spoons are what I think of as baby-sized. The cars are tiny. I am a Sam's club shopper, buying my olive oil by the gallon. They buy their milk by the quart (or it was probably liters, I guess…I wasn't paying that much attention). The packages are small…but that makes sense in context. After all, the grocery stores don't have big sprawling parking lots at the front door; most don't drive there. No giant shopping carts, no wide aisles inside the store. If I were carrying stuff home on foot or by bus, of course I wouldn't want to buy a 48-pack of toilet paper. This makes sense!
On the front of little things that fascinate me were the bathroom signs (seriously). Here in the US, the pictures indicating "his and hers" are utterly generic and utilitarian. Ever thought the girl on the restroom door was cute? Me neither. In Switzerland, though, her dress is short and poofs way out. Along the French border, I saw her wearing a pink and black checked skirt. And I think it was in Bern that she had braids. And it's not only the bathroom signs; the guy on the crosswalk sign wears a spiffy jacket and hat. None of this is all that surprising, in context; the Swiss intentionally create art and beauty everywhere. I rarely saw anything designed with only purpose in mind.
Another theme shouting from every corner of Switzerland is "green." The airport wasn't the only place with grass on the roof…I saw this on flat roofs everywhere. Almost every window had a box of flowers, exploding with colors. Almost every balcony (and balconies are also very much the norm) was adorned with plants and flowers. Trees were abundant, even in densely populated areas.


More to come soon…
---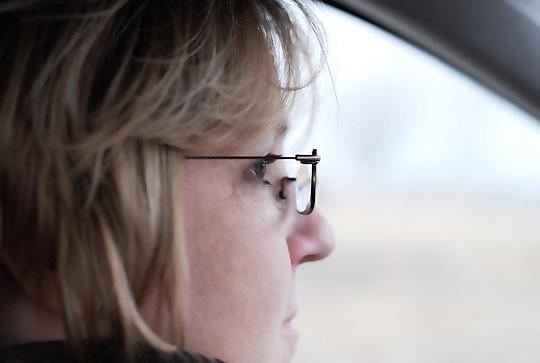 Karen is from Aledo, IL. She works in a domestic violence shelter by day, spends her off hours working in youth ministry, and dreams and prays great things while she follows the World Racers' blogs.