By Stephanie Fisk
"I am thankful that I experienced the communist regime (Khmer Rouge). Without those 4 years of extreme hardship and suffering, I wouldn't be the person I am today." -Pastor Keat
Pastor Keat was 17 years old when he had to flee Phnom Penh with his parents, brothers and grandmother. His family threw everything they could onto a 2 wheeled push cart and started walking. It took them 2 weeks to get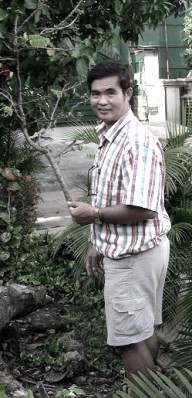 out of Phnom Penh due to the mass migration – 2 million leaving the cityat the same timein a state of panicwith only 6 exit roads. Chaos and fear. He passed by dead people lying on the side of the road. He witnessed a father drive his family off a bridge into the water because he did not want his family to have to face whatever lie ahead.
Pastor Keat's family got split up immediately by the Khmer Rouge soldiers. His grandmother went to one camp to feed the pigs (as there was no such thing as retirement or Social Security). His mom was sent to another camp to dry rice and Pastor was sent to a re-education center' in the jungle near the Thailand border.
It was here that he lived in constant fear for the next 4 years of his life. He would get up at the break of day and head to the rice fields without breakfast. A small bowl of watery rice with banana bark was served for lunch and supper. Basically pig slop' he called it. "Our stomachs couldn't digest it because it was food meant for pigs! Diarrhea became a way of life. And, unfortunately, it claimed many lives." At night he would collapse from shear exhaustion.
The only break allowed during the day was a 15 minute hiatus to smoke. So Pastor Keat became a smoker, as did everyone else. He laughs as his mind rewinds to the scene. But, there were no cigarettes. So, he had to grow his own tobacco plant and roll his own cigarette. But, it was worth the break!
Their diet was supplemented by insects, maggots, termites, rats, snakes, spiders, raw potatoesanything that might help curb their hunger pains. But you couldn't let a soldier see, or you would be killed. Protein and abundance of food was served during the only three-day holiday of the year – to celebrate communism's victory over Cambodia. Meat was served and eaten in great quantities, but it could no longer be properly digested due to its absence in the daily diet. Thus, many people became sick and died.
At the onset of the communist rule, life as he knew it was demolished. Freedom was stolen and replaced by fear and oppression. Life was now a test of survival. A game to see who could make it out alive. Money became obsolete. There was nothing to buy anyways. You did what they told you to do and ate whatever they served you. To protest or complain signaled your death. To live, you played dumb. You answered every question wit a "yes'. A No' also signaled death. Any possible opposition to communism was not tolerated. Pastor Keat remembers, "While eating rice, if a soldier overheard me talk about BBQ chicken, I could have been killed!"
Each khmer soldier was a leader of 10 students' and he would watch them like a hawk. Pastor Keat was only allowed to see his mom once day a year. You had to ask permission to go to the bathroom. And they often refused. Sally, Pastor Keat's wife, remembers learning to pee standing up – like guys – because no break or privacy was granted to women.
Upon arriving at the camp, you were issued 2 outfits for the year: 2 black shirts and 2 black pants. You were also given a bowl and spoon. Shoes were not necessary, and soon 1/2 inch calluses were formed on the soles of feet. Toothbrushes, combs, soap – all unnecessary according to the communists. Coal, chalk and sand were used to brush teeth. Their hand served as a comb.
The lack of clean water and soap became a huge sanitation issue that lead to the death of many. During the rainy season, fresh puddles were a glorious treat; but the dry season was miserable. Standstill puddles of murky water was the only water source. You would bathe in them while washing your clothes. Then, the same water was used to drink and cook with. Month after month
Marriage was not allowed during the first 3 years of the regime. In fact, you could get shot if a man was found talking with a women. And, of course, showing affection was strictly prohibited. Out of the blue one day, the soldiers decided that they wanted everyone to marry. So, they lined up girls on one side and guys on the other. The person who was standing across from you was now your husband or wife. Mass weddings took place.
Some camps allowed you to choose your wife and Pastor was granted permission to marry Sally. One night after a long days work in the rice paddy, they had a wedding ceremony with three other couples. Everyone who was living at the camp was in attendance. No special clothes were issued. Your same black clothes were worn. A go as you are mentality. During the ceremony you make vows with the communists, not your spouse. Both Pastor and Sally look at each other and smile as they recall how foolish it was. "We promised them that we would go wherever they sent us and do whatever they told us to do. Then we went to bed and woke up in the morning in time for work. No honeymoon or celebration involved."
A couple months later, the soldiers sent Pastor Keat away to another camp. It was their test – to see if they were faithful to each other or the communists. Many husbands were killed, but Pastor returned unharmed. They both had multiple near death experiences. Sally can vividly recall one of the scenes. She did not agree to one of her leaders requests, so she was brought out to a hole where dead bodies lay. He threatened her and told her she was next and that she had a few days to think about it. He left her out by the hole and returned a few days later. He had decided not to waste a bullet on her as he would rather use it to kill and animal for dinner.
After four years of living this hell day in and day out, they had an opportunity to escape. The Vietnamese army invaded Cambodia and most of the Khmer Rouge soldiers were preoccupied with fighting. Sally and Pastor Keat made a one month journey to the Thai border were they found refuge in a refugee camp. During this time, Sally gave birth. Due to exhaustion, malnutrition and lack of milk, the baby died one month later.
At the refugee camp someone was sharing the Gospel – a life of hope and freedom. They listened and accepted Jesus on the spot. Soon after they were sponsored to go to America and they ended up in Hawaii. Long story short, they learned English and Pastor Keat became a successful contractor. After spending 14 years in Hawaii, the Lord called them both back to Cambodia to start a church in their homeland. So here they are…
His ending remarks: "God is sovereign. Though we do not understand why God allowed these atrocities, we do know that it brought Cambodia into a mindset that is eager to hear the Gospel and ready to accept the hope and freedom that comes only from Jesus. After living in constant fear and oppression for many years, a Savior is definitely Good News'. Before the Khmer Rouge, there were only a handful of Christians in Cambodia. Now there are hundreds of thousands of us! Who knows if I would be following Jesus today if I had not experienced this depth of hopelessness and despair I now live a life of gratitudeself-discipline and hard work come naturallyand I can eat BBQ chicken whenever I want"
---

Stephanie Fisk spent last year traveling to the forty-eight contiguous states, doing servant ministry. She has a heart to call the least and the deserted to a great wedding feast. This year, she's traveling the world and is finishing up her year-long pilgrimage in East Asia.