By Jeff Goins, Editor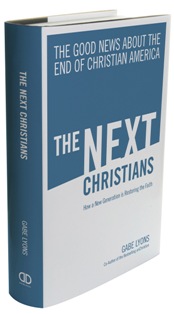 Co-author of UnChristian Gabe Lyons has a new book called The Next Christians. Publishers Weekly describes the book in the following:
[Lyons'] …newest book aims to "restore" U.S. evangelicalism by elevating a generation of leaders marked by six traits suitable for a postmodern, pluralistic, post-Christian America.
Evangelicals will need to be "provoked, not offended; creators, not critics; called, not employed; grounded, not distracted; in community, not alone; and countercultural, not relevant."
As I browsed through the book at Barnes and Noble, I was compelled to sit down and read a chapter. The idea of Christ-followers being provoked to act without being offended was immediately compelling to me, and when I came across the section on being creators of culture and not merely critics of it, I was hooked.
Lyons' basic argument in The Next Christians is God's mission is to restore the earth, that Christ came to redeem the world, not condemn it. And in that pursuit of redemption and reconciliation, the Creator is calling the church to creatively participate with him.
Lyons implies that evangelicals have, in part, missed the important fact that "Christ's redemptive work is not the end or even the goal of our stories; redemption is the beginning of our participation in God's work of restoration in our lives and the world."
I like the idea of evangelicals (who are often known as opponents of culture) as "creators, not critics"; the concept is reminiscent of Andy Crouch's term "culture making." In fact, Crouch and Lyons collaborated on the book Culture Making, which posits that Christians need to move from merely reacting to the world to revealing a new way of living in culture.
For decades, the church has debated what it means for Christians to be "in the world, but not of it."
What would it mean for Christians to be creators of culture and not just critics of it?
---

Jeff graduated from Illinois College, a small liberal arts school, with a degree in Spanish and Religion. He lives in Nashville, TN with his wife Ashley. He works for Adventures in Missions, edits this silly little magazine, and loves to do new things. Check out his blog: Pilgrimage of the Heart.