By Kevin Hendricks
Th following is an excerpt from the book Open Our Eyes by Kevin Hendricks, which is an effort to support Mark Horvath and the work that he does at InvisiblePeople.tv, where he tells real stories of American homelessness. All proceeds from the book go directly to Mark and Invisible People.
***
All homeless people are the stereotypical dirty, smelly, mentally unstable, alcoholics that you see at the exit ramp or under an overpass.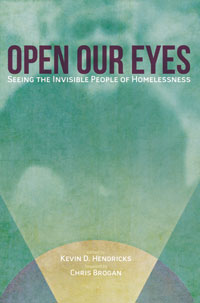 Not true. Families are homeless. Children are homeless. Babies are homeless. In fact, children account for nearly 40 percent of the homeless population in the United States. Families with children are the fastest growing segment of the homeless population – and those numbers are all pre-recession.
The stereotypical image of a homeless person is often what's considered chronic homelessness. In reality, 80 percent of the homeless find themselves in that situation temporarily. These are families, moms and dads, trying to provide for their kids and for whatever reason their options ran out. They had nowhere else to go. Forget the statistics and spend some time at InvisiblePeople.tv hearing their stories. You can hear the desperation in their voices.
This is the true voice of homelessness. It's not the raspy holler of the drunk on the corner asking for a handout, though he could use some help too.
We're talking about the voice of families. People with kids who have come to the end of their rope. An emergency strikes and they find themselves out on the streets. In many cases they bounce in and out of homelessness as one situation deteriorates and they just can't build up enough of a reserve to survive the next crisis. Some families have bounced around the country from job to job, last chance effort to last chance effort, and now find themselves in a new city with no friends or family to turn to. They end up in shelters.
So before you write off the homeless as the drunk on the corner or the guy in the park who talks to himself, remember that moms and dads, children and babies are homeless, too.
***
What's it like being a homeless mom? "It's really hard," says Gypsy.
She has two boys, a 10-year-old and a 3-year-old. Both have been sleeping with a friend for the past two months.
The 10-year-old is in school all day and she only sees him for five minutes a day. She gets to spend the day with her other son, but there's not much to do with a 3-year-old when you're homeless.
"Today we missed the free feeding because I had an appointment, so he's hungry," Gypsy says. But her friend will feed him tonight. Meanwhile Gypsy will have to get food from another meal service tonight.
A local church graciously purchased bus tickets so Gypsy and her boys can return home to Arizona in a few weeks.
***
"Every day is a struggle," says David, who lives in a homeless shelter with his wife Tish and their 15-month-old daughter Natasha. "We don't have any place like home to go to, so we make the best of what we have and the services that are offered here."
Right now, they're in the Prado Day Center in San Luis Obispo, Calif. They hope to get back on their feet and become a self-sufficient family.
"We try to be upbeat and help other people," David says. "When you help people, you get a lot of help back."
Both David and Tish are quick to point out that homelessness is not a disease. It's a situation that people fall into.
"We're homeless, we're not less human," says Tish. "Everybody is only one screwed up paycheck away from being right where we are."
"We're not looking for handouts or money or places to stay," says David. "Just a smile and treat us like normal people. We're just as normal as they are."
David and Tish are both former drug addicts and come from broken families. They're trying to put their lives back together and provide for their daughter, who is clearly the glue that holds them together.
"We're homeless, but we're happy and smiling today and that's because of our daughter," says David. "If we didn't have her I don't think we'd have the drive that we have to accomplish the things we want to accomplish."
---
Kevin lives in St. Paul, Minn., with his wife, kids and two dogs. He's a freelance writer, has been blogging since 1998 and recently published Addition by Adoption and Open Our Eyes. The above selections were taken, with permission, from the latter book, which you can buy here.