By BrittanyJoy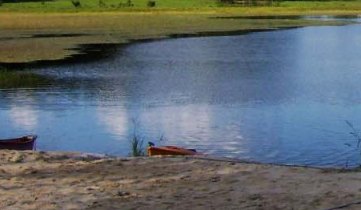 The swift movement of a Ugandan male caught by eye as I walked out of class, annoyed by the treatment I had received from a room of men who believe that a woman does not have a voice. In a split second my mind changed from self-loathing thoughts to curiosity as this man before me sprinted down the red dirt road. I decided to follow after hearing him say that someone is hurt. Arriving at a small fishing pond blocked off by barbed wire, my heart was pounding. I was met by a hysterical boy who tried to explain the horrible event that just occurred. While he and his friend were swimming in the pond, his friend began to drown. The boy panicked, got out of the water and ran to go get help. Within minutes of explaining all of this hundreds of people had gathered around from afar. Only few were in the water searching because most Ugandans can't swim. The westerners came and searched long and hard for several hours, but the boy was no where to be found.
By this time, every Ugandan from villages miles away was surrounding the pond. Determined to find the precious boy, they did not give up looking, despite the known outcome of their search. Finally after two days of intense searching, the boy was found at the bottom of the eighteen foot fishing pond. The leaders of a ministry close by did all they could to assemble a device from nothing to bring the body up from the water.
I will never forget what happened next. As the body was lifted out of water there was a hush that lasted about half a second and then screams and wails were shouted. Every person raced to see the body that was just pulled out of the water. I just stood still as they pushed and shoved by me in curiosity. Children were hiding behind their wailing mothers. Grown men were falling to the ground. And I just stood there stiff-unable to move or comprehend what was taking place before me. The boy's grandmother and aunts were throwing themselves to the ground, screaming in agony and fear.
I did not know this young man, yet I could not stop weeping. Was He saved? Did he have a personal relationship with Christ? So many precious souls are lost- because we are unwilling to share the treasure we hold so dear. Life is too short. People are going to hell, and we are building up possessions for a comfortable life. I attended the funeral that followed. There are no words to describe how raw it was. Funerals in Uganda are not as they are in America. Death is horrible especially when it is an unbeliever. When we reached the home, one of the relatives grabbed my hand and led me to the small room where the body was. Wrapped in cloths, the body laid in the center of the room while women wept over it and fanned away the flies that were around. The room was very hot and muggy from numerous bodies coming in and viewing the boy. Once the burial actually began, hundreds of people gathered outside in the blazing heat. The grave and coffin were being built before my eyes. Women were crying everywhere, holding on so very tightly to their handkerchiefs. AS the body was being put into the coffin, I felt really sick. I stepped back from the large crowd. They passed the coffin around and sang some Sudanese and Ugandan songs. I was so burdened I could not even cry. They lowered the coffin into the ground and started throwing cement, dirt and rock over it. This is just a young boy. What harsh life, what joys had he experienced in his life?
"Why God do these things have to happen? And God answered my question…for my glory…how much more than you am I sad! This is my child. My son whom I love. God how loving you are. I pray for the family who is now missing their son. God Almighty I pray for the friend of this boy. Heal his broken heart. Turn him back to you. I pray that you will be our Healer. God glorify your name through this. I trust your will, O God. In your sovereign plan. God let me share with others your love, your hope, your encouragement, your forgiveness. Let me give my life to you. I don't want to waste it anymore. Souls are unaware of your love. GOD BREAK MY HEART FOR THE LOST. BREAK MY HEART FOR THE BROKENHEARTED. FOR THE POOR, WIDOWED AND ORPHANED."
---
BrittanyJoy, California is passionate about the glory of her God. She is humbled, challenged and awestruck by His hand in her life and the world around. She hopes to spend the rest of her days with the refugees of Northern Africa.