By Rachel Knight
Last weekend, my life was absolutely wrecked. Every month I go to the Planned Parenthood Clinic in Houston, Texas. Not to protest, to pray. I am part of the Houston chapter of Bound4Life. We stand on the opposite of the street from the clinic and pray. We don't carry signs, wear T-shirts, pass out fliers, or even talk with the people going inside. In fact, our mouths are covered with red tape that has the word "LIFE" written across it.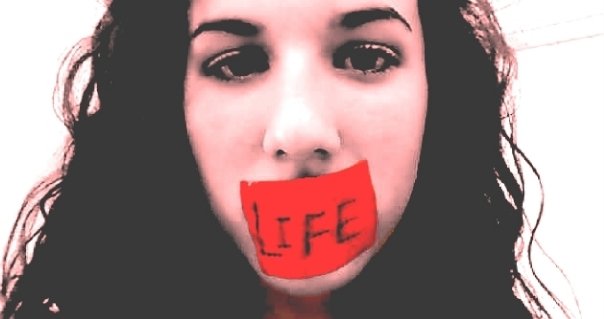 We stand in silence to identify with the silent cries of the unborn and for those who have no voice. We appeal to a Higher Authority, the Almighty Judge, to have mercy on our country and change the laws relating to abortion. Our prayer is simple: Jesus, I plead Your Blood over my sins and the sins of my nation. God, end abortion and send revival to America.
We believe that abortion is a giant in our land, and that God gives us the power to take down giants.
It is absolutely critical that the Body of Christ lift up the city of Houston, Texas. On the surface, the city looks like any other city. But, our proximity to Mexico makes us a major hub for the human trafficking. A majority of the women and children that are trafficked into the United States come through Houston. Many of them end up staying in this city. Planned Parenthood is in the process of building the largest abortion clinic in the western hemisphere in Houston, Texas. At six stories high this clinic will be a giant in the city. They will legally be allowed to perform late term abortions and are dedicating an entire floor to a trauma center because of the frequency of complications that occur during late term abortion procedures. If there was ever a time to pray for our country, the time is now!
Some months, it is awesome to stand outside of the clinic. We know that we are tearing down strongholds in the spirit. As we pray, we can literally see God moving. Other months, the walls seem impenetrable and all I can do is weep. This past weekend, I was crying out for mercy on behalf of our city. I was repenting and crying out for the love of Christ to be made evident to the women that walked through the doors. I was praying for an awakening to take place in the Body of Christ. Now is the time for His bride to rise up. We cannot remain silent and allow this giant abortion clinic to rise up in our backyard. Now is the time to cry out for a deliverer!
As I was standing there, I was praying for each person that entered that building. The Lord was telling me how much He loved them and how He was calling out to each one of them. I was praying for His love and mercy to rain down in each woman's life.
As I was praying, a car pulled up behind the gate. This was strange because cars don't normally park there. The parking lot is across the street. Very rarely do cars pull up there, and if they do, it is just for a moment to pick someone up who is leaving the clinic. A Muslim couple got out of the car. She pulled down the scarf from around her face and she was stunningly beautiful. From across the street, I could see this woman's fear and pain. She radiated grief. She absolutely broke my heart. I began praying and interceding on her behalf. She started to walk towards the door and then dropped to her knees near the bushes. In the Spirit, I dropped to my knees as well. As her knees hit the ground, she threw up in the bushes. My heart broke into a thousand pieces. Her husband grabbed her hand and pulled her to her feet. One of the Planned Parenthood volunteers grabbed her other hand and together they walked her into the clinic. All I could do was stand on the street and weep. I cried out for her to have a revelation of the love and mercy of the God of Isaac. I asked that He send his angels after that woman. I could not enter to building to go after her, but He could. I could not wrap my arms around her, but He could. God spoke to me and told me that He was showing me a very vivid and graphic picture of what goes on in the hearts of the women that walk through the doors of that clinic.
Everything in me broke for her. I may never know that woman's name, but she absolutely changed my life. We never spoke, but I will never be the same. Her face is forever burned onto my heart. I know that the heart of God is broken for the men and women in the Muslim culture. He desires to pour out his love and mercy into a culture that knows nothing of Him. This past weekend was absolutely a wake-up call to me. Now is the time to fall onto our knees and cry out on behalf of the people that He loves. They need Him so badly!
It is time to cry out on behalf of a city that is in desperate need of mercy. 

---
Rachel
is currently working on her Ph.D in microbiology and immunology. In 2005, she traveled to Kenya on a mission trip and left her heart there. She absolutely feels that God is calling her to the mission field and can't wait to see what God has planned for her. She's learning to seek out the heart of God where ever He puts her. Right now, that is Bound4Life in Houston, Texas.