By George Elerick
Symbols have power. For some, symbols might hold something even deeper than a memory, maybe your identity. For those who follow the god of Wal-Mart, it might be the cheesy yellow pin with a grin on it. For those who follow the god of the Dallas Cowboys, your symbol might be the blue star of Texas. And others who say they follow Yahweh, their symbol is a cross. For those in the Old Testament, their symbol may have been the burning bush or the two tablets or a map with little traveling nomads on it.
We can't get away from the reality that symbols shape us. Symbols might even have more influence than we think.
Semiotics, as an academic discipline, seeks to make sense of symbols and what they mean and why they mean what they mean. Take for example, the cross. We might think of the cross as a symbol of atonement or a symbol of self-sacrificial love or maybe a symbol of death. For Rome, the cross didn't signify atonement. It signified someone who deserved to die because they were insurrectionists. It was a tool of embarrassment and public shame. It signified failure on the part of the crucified ones. It signaled victory to the way of Rome. But, why the cross? Why has the cross come to mean so much to those who follow in the way of Jesus?
Some might say because it is the ultimate act of love and salvation of the God-man who came to earth on our behalf. Others say it is a symbol of deep hope and invitation to the world. If I can pose a question at this point in the conversation:
How would the electric chair be a symbol of hope or redemption or atonement?
Don't get me wrong, I think we needed Jesus to save us, but it is an act that is past tense in the sense of universal salvation. He is still saving us, and for that I think the cross can be a reminder of what He did for us and what He is doing. But the cross as a symbol becomes a bit anemic to the story of Jesus only because, according to Biblical witness, He comes back to life. And so, why isn't the symbol we hold dear the tomb? It was a sign of victory over sin, over death, over darkness and destructive ways of living. It was an act of defiant hope against all odds. The cross wasn't defiant, it was deadly. That's what the purpose of the cross was and is and anything else like it today would hold the same stigma. So, why end the story there in our symbols when we all know it didn't actually end there?
I think we might have been misled to think that the cross was the point. And so our symbols have gotten mixed up. Think of it like a radio signal. Every radio has its own signal it uses to broadcast its' station to the world. Now, those signals can even go over the Internet. But, we can easily flip the dial and switch over to another radio station because static is just that tricky. And so maybe in the historic static of semiotics, either the people who directly followed Jesus or those who followed after them might have mixed up their signals and have turned an instrument of death into hope. Which isn't necessarily a bad thing. It is good to restore paradoxes, but that's if the story we subscribe to ends there, and as we know it, it doesn't.
It ends with resurrection. Which is a better symbol for hope. A better symbol to empower us to go and resurrect love, peace, grace and redemption wherever we go!
What do you think? Is the cross a good symbol for Christianity or is the tomb a better one?
If you liked this article check out Vampire Christians: Jesus is More Than the Cross
---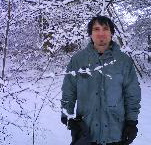 George loves the outdoors, singing in the shower and doing underwater, synchronized pilates. He is currently working on a book entitled Jesus Bootlegged: Recapturing the Stolen Message of Jesus for The World. You can read more about him at his blog.