By Derek Iannelli-Smith
Is Jesus really just concerned with our receiving him into our hearts? Have evangelicals over-emphasized individual "decisions for Christ" and under-emphasized the redemptive elements of the Gospel in regards to social and cultural transformation? Is our gospel a "Me-first" Gospel?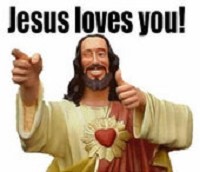 A couple of disclaimers:
1. I have learned that there are some "hills to die on", and then there are non-essentials that distract from gospel-centered living.

2. Shooting each other, ministries, people, blogs, etc, are not ministry; they are soap boxes and unbiblical ways of handling sensitive topics, and it takes work to walk out. Galatians 6:1-5 should be a guiding text, and it is essential that we know how to deal with those who differ from us.
Is Jesus really concerned with our receiving Him into our hearts?
Romans 10:3-15 is clear in that there is clearly a heart element to salvation, but the way we describe "heart" today and the way the Bible describes "heart" are two very different things. It all rides on biblical vocabulary. Further, a solid soteriology based upon monergism is essential in placing the effectual call to salvation in its most God-glorifying context.
I think the reason for this question in evangelical circles is because of the frustration and lack of patience of many shepherds (that is, anyone who is caring for another believer) and the tension and cost of discipleship. Investing in relationships, participating in God's plan of those he is drawing to himself, is not on our timetable. We are a "microwave" society, and we desire immediate and empirical evidence of truth. I am not convinced that the intention to see the fruits is a bad thing, but the methods we use at times are.

Have evangelicals (this needs to be defined, for the sake of this article see this balanced view) over-emphasized individual "decisions for Christ" and under-emphasized the redemptive elements of the Gospel in regards to social and cultural transformation? First, the topic of decisional regeneration has been around since Charles Finney. We get that. I think that evangelicals spend too much time "whacking-that-mole" versus doing something about it in their own ministries. It is much easier to spend resources, time, and blogs on this non-essential, versus the Great Commission (authority, going, making, baptizing, teaching). What I think we forget is that Jesus loved him too, and Finney did not wake up one day and say, "You, know, I think I will water down the gospel for the sake of growing a church." Most evangelicals are not thinking this, either, and we must discern the goal here: seeing God glorified with a compassion for those far from God (hopefully, being sober-minded about depravity, of course) versus growing a church.
Second, the current missional movement of the church is trying to change this, not with a new teaching but by going back to the basics of discipleship and what it means to be a Christ-follower where God has placed you. The error, I see, in the pendulum swinging the other way (focusing on social and cultural transformation) is that it, too, can be an error on the side of moralism, which is not the gospel either.
What I am advocating is a sobriety of our culture. God is not unaware or surprised by the culture, and we should not be, either. Further, because we have a divine perspective, there is an element of stewardship that is all of our responsibility to walk by faith, repent, and walk in obedience.
Finally, it is not the responsibility of the "evangelicals" to bring about a change; it is an individual investing in another individual. I have heard it said that it is one beggar showing another beggar where to find bread. What that looks like is what we try to emphasize at my church Oasis. We seek to build gospel-centered communities to reach people for Christ Jesus and invest in messy relationships.
Until we individually understand God's holiness in light of our sinfulness, the Cross, and the Resurrection, we will continue to see the planks in each other's eyes, ministries, books, blogs, social justice, moralism, soap-boxes, etc. We need to continue working on Philippians 2 and Colossians 1 being a reality in our lives.
When we have understood that (I confess that I only catch brief glimpses of this), there will always be places to work and change. Thankfully, I am sure of this, "that He who began a good work in you will bring it to completion at the day of Jesus Christ" (Philippians 1:6).
There is no "Me-first" gospel; it is a Jesus-first gospel.
---
Derek is a bumbling church planter in Goose Creek, SC who is humbled that he had/has an opportunity to attain an M.Div (Pastoral Counseling) and maintain his NANC (Biblical Counseling) certification.