By Tiffany Berkowitz
From Cambodia: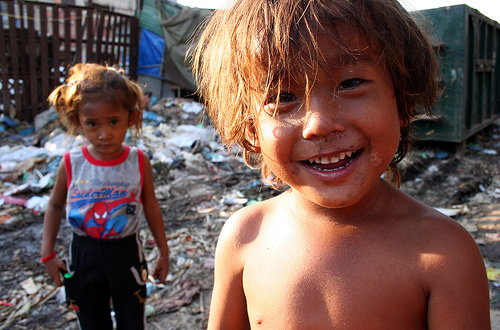 Just as we were about to get up from the table and grab a tuk tuk home, I heard a small voice ask, "Buy my book?"
I've probably heard that almost as often as I've heard "Tuk Tuk? Moto?" this month. Which could be up to a hundred times a day, depending on how long I'm out in public.The deep red and dark orange lights in the restaurant were glowing dimly.I looked at his face and he smirked. He asked again, "Buy my book?"
I asked what his name was.
Ani.Ani is a wise-guy. First he was 12, then he was 17 born in '93.I'm not sure why, but all of the children say that they are 12 whether they look 18 or 6.Telling a tourist that you were born in '93 is also a common lie– because that makes them just above the illegal age for a child to be working. He told us that he works from 7am to midnight.I told him I did not want to buy his book to which he responded, "I'm very hungry."It took at least eight minutes to convince him to sit and eat with us, mostly because there were four men watching him from outside the restaurant. They gawked in at Ani as he sat down reluctantly with four white strangers. He sat down, then he'd get up again, go outside, talk to one of the men, then come back inside and sit down. This probably happened at least 30 times from the moment I ordered him his favorite meal: Tom Yam Soup and a Coke, until the moment he finished eating.Our conversation was funny. He talked about his hungry family, about playing soccer, and about his work. He was very nervous, and we knew he was lying at least 90% of the time.I just wanted to know the truth.I wanted to know who those men were. I asked them, and they just walked away.I wanted to know who he worked for.I wanted to know what would happen if he didn't sell any books.I wanted to know how old he really was, and if he really went to school.I wanted to know who those men worked for.I just wanted to know how it all worked.I didn't want to hurt anyone or turn anyone in– but there was no way this kid was going to trust me or give me any accurate information.So we just enjoyed dinner.We laughed and he ate, and then he left.My life is full of moments like that. Moments where I am sitting at the same table as the injustices that my heart breaks for. Moments where I want to be able to love deeply and maybe even be a part of changing someone's life… instead… we just sit there and laugh together.***When he left, a Swiss man, probably in his late 50's leaned over from the table to our right and asked me, "Are you married?"I was baffled for a moment and then repeated his question, "Am I married?""No, I don't care if you're married. Are you American?""Oh!" I laughed with relief, "Yes, we are Americans."He and a stunning Brazilian woman pulled up chairs and joined us for a while. They are on an amazing trip- going from Vienna to Brazil in a year. Their goal is to get there without ever having gotten on a plane. So far, they've experienced a lot. We talked about travel, culture, life, and love. We told them about encountering God's love and how desperately we believe in the hope He has to offer to the world, but they didn't have much to say about that. The conversation was rich and wonderful. They said one thing though that warmed my heart. They told us that there was "something different about us; that much was obvious."We didn't spout off the gospel to make sure they knew it was the "Jesus" in us. We didn't have to rattle off scripture because we just… well, we were Jesus.No one was rescued from child trafficking. No one said the sinners prayer. But three people were loved. Just like Jesus loves them.You might not think that's worth very much, and that's fine. But I happen to think it's the most important thing there is."Being unwanted, unloved, uncared for, forgotten by everybody, I think that is a much greater hunger, a much greater poverty than the person who has nothing to eat."-Mother Teresa
---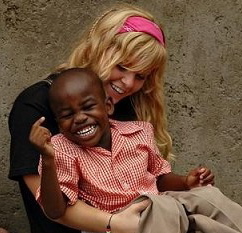 Tiffany is from California. She is currently on the World Race, ministering in 11 different countries in 11 months with Adventures In Missions. You can find out more about her here.