By Jenni Weir
It was my first full day in Haiti. I was excited to go to Pastor Christian's church, Gospel Light Chapel in Carrefour, to meet the people and pray over them. I knew there were a lot of people that have been displaced. They have no place to lay their head, other than the hard, rocky ground in the lot next door to the church. There's a few tarps covering their heads, to block the heat of the sun and the rain that falls which still leaks through the seams.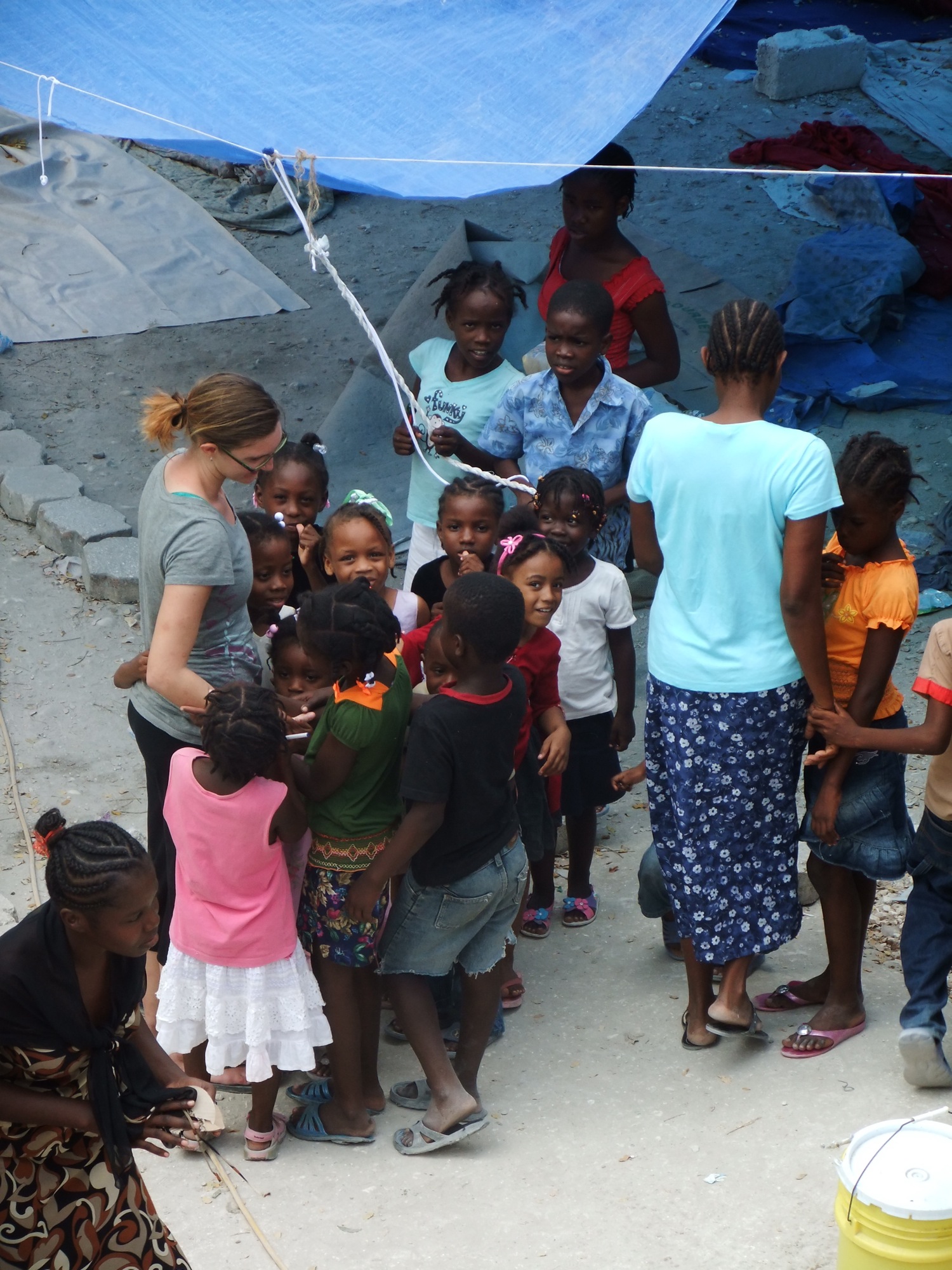 Walking into this site, I was expecting to see lack of hope and few smiles. As I walked through the gate,
I saw children laughing and playing, and life being lived all around me. They didn't have much, but what they did have was each other.
As I stood taking it all it and saying a quick prayer, I was immediately surrounded by a mob of children of all ages. Some had no shoes. A few spoke English. All were grinning from ear to ear, excited to see a white person. I was now not known as Jenni, but blanc, meaning "white."
It didn't take long for these kids to start talking to me in Creole, keeping my attention and the entertainment alive. Children kept coming and going, and dragged me around their "home" introducing me to their families and "new" life!
I couldn't help but smile, laugh and join in the "activities" of the day. I quickly began to learn their names most of which I cannot spell or even pronounce but the attempt sent the kids giggling and talking amongst themselves.
It was impossible to not fall in love with these children. With all that has taken place in their lives over the last month losing homes, belongings and family members they still had joy. They loved introducing me to the family they did have. They loved fighting over who got to hold my hand (made me wish I had more arms), giving a high-five and receiving lots of hugs.
That was only the beginning. Nothing could have prepared me for what was to come.
From the first day I got there to the minute I was getting in the car to leave, parents were coming up to me and handing me their kids. Not just to hold and to love but to take, to have. I didn't say anything. I didn't do anything. I was just there. Loving. Being Jesus to them. In the midst of it all, children were being given to me to take care of. Not only temporarily while I was in Haiti, but to bring home.
My heart shattered. Who would willingly give up a son or daughter? A tiny baby that can't say that they love and need their mom? Who would hand a child to a "stranger" and a foreigner? These parents would. Not because they don't love them, but because they do. They want to see their kids grow up and have a better life and feel as though they can't do that in Haiti. They want to see them get out of the disaster, poverty and chaos of this nation. These parents are only trying to do the best thing.
I fought off tears. Not because I knew I couldn't take these kids, but because I saw the desperation in the eyes of the parents. I saw the generous heart and love of a parent. As I graciously gave the children back to their parents, I explained why I couldn't take them. They weren't mine to have. These children are God's kids.
I began loving these kids "my way" and ended loving them as Jesus. I saw them for what they had, not what they didn't have. I loved them as my own, for the short time I was there. Loving when you know you have to walk away is hard. I remember the kids all shouting out at me when I left, "When are you coming back?" It both touched me and broke me. How I already miss these kids. Their smiles, their innocence, and their love.
These are the faces of the new generation of Haiti. We need to be praying for them and with them.

---
Jenni is a Canadian who grew up in a small town in Northern Ontario. She recently completed a year of travel around the world and just returned from Haiti.