By Andrea Wendel
Today was an adventure of finding Justine. Justine was found, originally, by Ryan Stewart. He has several blogs about groups who have found Justine since then.
Today, was our turn.
Today, God continued to carry out His persistent love for His daughter.
Justine is a beautiful woman who has lost her left foot to a snake bite and very bad infection over the last 3 years. Ryan found her on the beach and struck up a conversation with her two years ago… got her a Bible… visited with her… loved on her… and has continued to advocate for her ever since.
Today, we followed the "goose-chase" directions to the town of Livingston (about a half hour boat ride from Puerto Barrios) to her house. But first, we actually passed by Livingston earlier in the day (on our River Tour), and caught a glimpse of a woman on the pier in the distance that looked extremely similar to the description we got of Justine and got real excited. (to be continued…)
So, later on, after our River Tour, we got dropped off in Livingston to attempt our mission. We started by knowing that we needed to turn left before the big hill. Then we were to find Pastor Marcos at the Nazarene Church. We were walking rather blindly, when a new friend, Oscar, came alongside the gaggle of gringos and asked us what we were looking for. He decided to be our guide. How convenient.
About 15 minutes down the road, he pointed us down a dirt path that ended up at Pastor Marcos' church. He was there. He invited us around back to meet his family, and when we introduced ourselves as friends of Ryan who were looking for Justine, they laughed and giggled and carried on for a bit. We asked if Pastor Marcos would take us to her, and he agreed.
So, we started out on the 45 minute trek across town to where she lives in a cinder block shack. We got to the front door, that was actually just a mattress, and peeked inside. Guess who it was? Yep, that's right. It was the woman we had spotted on the pier about 6 hours earlier.
We went inside, greeted her, and told her who we were and why we were there. She beamed. She started talking a million words a minute in her broken English, telling us how she had been, how she has been caring for her leg, and how she prays to God every day. She giggled and smiled the whole time. We prayed over her, loved on her, and reminded her that God loved her so much that He has sent three groups of World Racers to her over the years to tell her that. She received it all.
We took pictures with her, said our goodbyes, and made our way out of the house. As we were standing outside waving, she began to sing to us. It was precious! She belted it and was just rejoicing! She said over and over what a great day it was.
And it was. God is so good. So detailed. He cares so deeply for the One. He sends us after the One. It was a beautiful day of being a part of what God started in her life years ago with a World Race team who walked in obedience and love.
Here we are walking in victory and excitement back to the boat at the end of the day. The Justine story will be continued… when the next World Race team comes through Guatemala.
---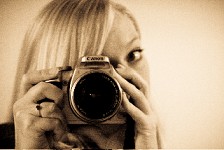 Andi grew up in a little suburb in Kentucky called Fort Thomas, right across the river from Cincinnati, Ohio. She was on the January 2008 World Race. She just recently headed back out into the field for a second time to lead the October 2009 World Race group. She loves the Andy Griffith Show and watching movies.