By Scott Budzar
Stay on good terms with each other, held together by love.
Be ready with a meal or a bed when it's needed.
Why, some have extended hospitality to angels without ever knowing it!
-Hebrews 13:1-2, The Message
If there is a gift that keeps on giving – in my world as a recipient – it is coffee! If you know me then you know my feelings for coffee. I mean good coffee. Not some version of it that is dispensed with disrespect at each and every mega-gas station out there. Coffee that sits in a pot on an electric plated warmer for more than two minutes is no longer coffee. It is simply burnt brown water.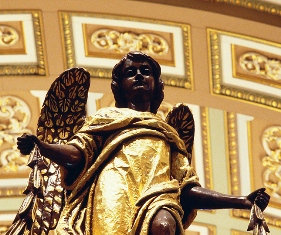 Yes, it's true, I am a real snot about coffee. I must have it ground then brewed within minutes of each other. It must be strong. It must be in a heavy mug and not some mug that feels like the handle is gonna snap off every time you pick it up. Dark roasted coffee that will not only warm the walls of a thick ceramic cup but it shouts out loud in protest to the evils of Styrofoam (unless I'm in a hurry – of course).
Now mind you there are folks that know I am a strong supporter of fair-trade coffees. I support the shops that support the worker. The real worker. After all, the building of the Church relied heavily on the heart of the blue-collar worker. And that would be both male and female in case your confused. That's another story.
So, do I have feelings against the "Corpo" world of coffee? (My friend Ben uses this word-slash-It's like the middle finger-adjective, "Corpo", extensively. ) My answer: To an extent. I don't hate places like, oh let's say, Starbuck's for example. I just don't go there anymore. For I too walked in darkness once before. Let's say I've been saved and I have seen the light just for the sake of rattling off another paragraph and for the right to remain, well, cheesey.
Christmas was fruitful this year as I received several pounds of whole bean coffee from three different providers. I could get all in to which one is best and which one shall remain as a last resort. But for now, let's just say that there's something about that coffee at Scribbles Coffee Co. in downtown Kent that warms my heart and my belly.
However, one pound of coffee that I received from my brother had a gift card attached to it and it was from Starbuck's. Hmmm… It felt like a dilemma had been strapped to the bag of beans instead of a gift card. Well, that's where my snotty-ness needs to just sit down and say, "Thanks" as I enjoy the fruits of someone else's labor as their gift to me!
Here's where you gotta really pay attention. Something very peculiar and divinely sweet took place between December 29 and New Year's Day. It is so very simple that it's complexities have to involve the Lord. Mother Teresa would've said, "He meets us in some of the most distressing disguises you know." And I would agree because I did not realize how this added up until just a few days after it happened.
My Dad's birthday falls on the 29th of December, so my wife, myself and our four children headed to Cleveland to be a part of my Dad's birthday festivities. We decided to spend time that day with my side of the family instead of Christmas Day. So there were some gift exchanges going on between all of us that extended from Christmas Day. So this is where I received the several pounds of coffee, Starbuck's gift card and a beautiful statue of an angel.
The statue is just gorgeous. My mom gave it to me. She said she saw it and it made her think of me and she thought it looked like me and so she bought it for me for Christmas. Now if you're familiar with Leonardo Da Vinci's Vitruvian Man(see photo) then you'll know this statue is inspired by just that. It rests upon my desk next to me as I write this.
So I came back home to Kent, OH with coffee-related things and a sweet statue.

Continued next week…
---

Scott

is 37 and the senior pastor of the Vineyard Community Church in Kent, Ohio. His wife Beth is his hero, and together they have three gorgeous-heart-stealing daughters and an energy-packed-love-soaked son. He is co-founder of Anonymous Relief Mission (
www.anonrelief.org
) which hunts down furniture and basic necessities and furnishes apartments, one family at a time, for folks coming directly out of homelessness.