By Kari Miller
"Praise the Lord, O my soul; and forget not his benefits who forgives all your sins and heals all your diseases, who redeems your life from the pit and crowns you with love and compassion, who satisfies your desires with good things so that your youth is renewed like the eagle." -Psalm 103: 2-5
Have you ever waken up to find that you are deep inside a pit? Life has suddenly begun to collapse around you, and it feels as if you might suffocate under the weight of it all. You can't tell anymore whether it was the foolish choices you made or the foolish choices of others that dug the pit so deep. All you know is that you are in a dark, dank place with little hope of rescue. As if that is not enough, the pit seems to be filling with the heaviness of fear and despair. Everything you use to try to get yourself out only sinks you deeper. The air begins to feel scarce, and panic becomes your closest friend. You begin to wonder if anyone will find you. Will any one care enough to come looking?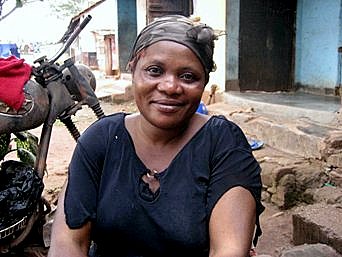 Rachel had fallen into a deep pit. Her husband died in 2000 of AIDS, leaving her HIV positive. Losing him was devastating, but equally as devastating was realizing that she was faithful to a man who slept with other women. How do you mourn someone and at the same time burn with rage?
When did he have time to have these affairs? I cooked dinner every night. I took care of our children. I listened to you as you told me about the stresses of your day. I mourned with you when our last-born child died in infancy. We walked through this deep valley of grief together and emerged on the other side. Our marriage seemed strong and intimate, was it all an illusion? Why did he do it? Was I not enough? Am I not beautiful? Did he not love me? Was I a bad wife? Was I not a good lover? The questions came at her at lightening speed and tormented her day in and day out.
Each day she nursed her husband to his death, and sometimes it took everything in her to care for him, to show compassion to him, to clean him, to listen to his cries. She felt guilty sometimes that she wanted him to suffer. He had broken their sacred bond and had brought death into the house. Finally, he breathed his last and even in her anger, her heart broke. She had loved him. He had been handsome. She remembered falling in love with him. How sweet that time was. She was his princess. Their love was sweet and intoxicating. What went wrong? She had gone from deliriously happy bride, to radiant mother, to ignored wife, to diseased widow. Her emotions swirled inside her like a tempest. They were unpredictable and all consuming. They drove her deep into a pit of fear and despair.
Deep in that pit with her were her two children and the only child of her dead sister. She couldn't lose it completely; those children depended on her for food, school fees and a safe place to live. She went to the clinic and started the ARV drugs in hopes that she might live long enough to see these children through school. When she feels good she sells small vegetables at the market. She struggles to feed them everyday and to pay their school fees. Now she is being chased away from the one room shack that is her home. The city has condemned it and in doing so condemned her.
Ruth, Elizabeth and I went to visit Rachel. As I approached the wooden structure, she was sitting on a small stool, staring off into the distance. When we caught her attention she welcomed us towards her. We sat outside her home in silence for a couple of minutes. Taking her hand in mine, I asked her how she was doing. That is all it took for the floodgates to open. She began to weep while I stroked her arm and her shoulders. We listened as Rachel told us about her pit. It seemed so deep and so dark, but we didn't let go of her. The other widows gathered around her. She told us every detail. We saw the ugly face of fear. We heard the cries of despair and desperation. We sensed the wildness of rage. We listened and were not intimidated by these bullies of emotion. We held Rachel as she let out all that she was working so hard to keep locked inside of her. Then we prayed to the one who rescues us from even our deepest wounds.

The widows asked Jesus to come with his powerful weapon of love and surround Rachel. They asked him to wage war against her fear and desperation. They asked him to hold her in the palm of his hand. They asked him to reach down into her darkness and shine his great light. As they prayed, a powerful sense of love and power filled that place. Rachel's breathing calmed down, and she seemed a little more at peace. We each looked at her and said over and over, "You are not alone. God will not leave you, and we will not leave you." She meekly said, "Thank you. I do love Jesus and I want to be free from this pain. Thank you for coming, I needed to know that God still cares about me."
In that moment, God's great hand of rescue reached down into her pit and gave her hope in a way out. His light shone down, breaking the blackest part of her darkness. She is not yet healed completely, but she is in a community of widows that will not abandon her into the pit. They will stand with her and remind her of God's faithfulness and compassion. They will hold her when she cries and wage war against the evil forces of fear, despair and rage. Her healing has begun, and slowly but surely it will be completed. There will be a day when a crown will be placed on her head that shines with love and compassion.
---

Kari Miller
is a 4th grade teacher who is passionate about loving Jesus and loving others. She longs to inspire others to love the least, the lost and the left out.

Kari is trying to raise $15,000 dollars to purchase land for 100 widows and their children. To make a donation, make out a check to "Christ Presbyterian Church" (or CPC). Put "Cornerstone Widows Ministry" in the memo section and mail to:
CPC / Attn: Missions Department / 6901 Normandale Blvd / Edina, MN 55435