By Zach Hopkins
I live in a very American Christian world. I have no idea about what it means to truly reach the lost, to get dirty, or to Feed My Sheep. The Great Commission is something I can recite from memory if you ask, but I had never put it to action by my own choice. Sure I have been apart of outreaches and mission trips, but those were all occasions where someone else set up the trip and sent me on the way. Before recently I thought missions meant going out and simply paining a house, or stocking a food pantry. That idea has been radically changed, thanks to one man.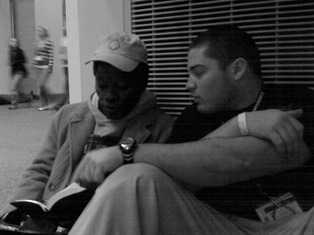 I was at a convention for college students in Indianapolis. One evening after a very emotional main session I wanted to take some time to collect my thoughts. Most of the time I would spend in prayer and consideration for what God is trying to tell me.
This night I felt that something was different; I was already fulfilled but still left craving more. Thats when I realized that I didnt need God to pour more into me, He had already done that, instead He was calling me to go out and share my heart with someone else.
I entertained the idea of going out into the city and passionately ministering to every single person I saw that night (after all, a guys allowed to dream), so I headed out into the night. The Indianapolis Convention Center is in the heart of the city, right next to the RCA dome, I was sure to find someone I thought.
I walked for about 10 minutes, completely unsure of myself, and what I was doing. Questions began to race through my head, what are you doing here and you dont belong out here by yourself. With frustration I came before God asking Him to make something apart of this attempt at a step of faith. I asked Him to lead me to just one person who I could talk to, just one, who needed a friend, who needed love. I knew God was going to move that night.
Then I set out walking. I walked several blocks until I came to the intersection of West Georgia and South Meridian; Im specific because I will never forget what happened there. As I approached the crowded bar district of downtown I began to panic. Questioning myself again I thought about leaving and heading back to the safety of my hotel room. Just then I turned to see a man seated upon a throne made of milk crates.
All my fear washed away as I approached the man. After asking how he was doing I stood there, he had brushed me off and I suspected that he expected me to just keep moving. I stretched out my hand, introducing myself, and he did the same exclaiming, Willie Joseph is my name.
I joined Willie on the cold concrete. I asked him to share with me, he was quick to respond with story after story. I could tell he was happy to talk. He was 48, he had been married three times, he had one daughter who was 15 years old, he had served two sentences in the county prison, he was homeless, poor, and an alcoholic. After listening to some of the stories of his past I asked if I could share a little about myself. I told him why I was in town, where I was from, and a little bit about my past.
The more we talked the more he opened up to me. He told me a story that had happened to him earlier that very day. Willie came across a young boy selling candy bars, after asking how much they cost the boy shrugged him off and yelled at him saying it didnt matter how much they cost because Willie couldnt have afforded one anyway, they boy called him a crack head and quickly turned his back and left. Willie told me that moment he asked God for a friend, one who would show him love.

Continued next week…
---

Zach is a student at Illinois College and will graduate in 2009 with degrees in Religion and Sociology. With a passion for the message of Christ, and an often times radical approach to faith he is the Co-President of Brothers and Sisters In Christ and plans to go into full time ministry after school. He is from St. Louis, MO and has been alive and kicking 20 for years.