By Melissa Sandel
Its Christmas… again. People are putting up their Christmas trees… again. Americans are scrambling to buy gifts that will probably end up stashed in the back corner of a closet… again. For many years now, Christmas has come and gone, leaving me with the sense that Ive missed something important.
This year, I want Christmas to be different.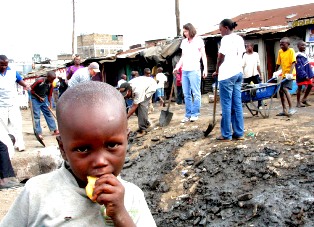 Last month, my husband and I spent eight days in the slums of Nairobi, Kenya. Every moment of this trip challenged my thinking and believing.
I met a two year-old boy on the streets who gained my attention by tugging on my shirt. I bent down to talk to him and noticed he was playing with a used condom. He probably found it in the garbage. Poverty is at an all-time high when such items become the toys of children.
As I connected with this little guy, I suddenly obtained a new sense of awareness about the value of material possessions. As I traveled through the slums, I was simultaneously wearing a tank top, a t-shirt and a long sleeved shirt. I was wearing more clothes at one time than hed likely possessed in his entire life.
Families in the Nairobi slums live in shacks, or what locals call shanties. Shanties are approximately 8×10 in size and are made of tree limbs, mud and sheet metal. Most shanties have one small bed where an adult sleeps while children slumber on the dirt floor. Theres no electricity or running water in a shanty. Its a dark, humbling place. Each time I entered one of these shacks, I was reminded that my American bedroom is larger than the home of a Kenyan family of four.
There are few toilets or showers among the urban poor. A trench runs outside a row of shanties where people dump both human waste and garbage. Ultimately, these ditches are open sewers. This is the environment where children play. As I pondered the many times when Ive felt personally violated by what I considered the unsanitary conditions of public American bathrooms, I was ashamed of my prevailing attitude of entitlement.
Weve been back in the States for about three weeks now. But images of poverty are constantly racing through my mind. Christmas is a convicting time to be returning to a place of abundant resources.
So, its Christmas… again. And, I vow to be different this year. Im reminded that more than 2000 years ago, Christ came into a spiritually destitute world in the most selfless way possible. The Bible says Jesus surrendered the glorious appearance He had in heaven to humbly enter into the spiritual and physical poverty of those He loved. This means that Christmas has always been about God reaching out to those in need.
Our God changed the course of history when He sent the gift of His son into this world. This Christmas, our church is trying to change the course of history for a neighborhood in Nairobi, Kenya. Collectively we want Christmas to be … different. Were engaging in an emphasis entitled, A Different Kind of Christmas.
West Side Christian Church in Springfield, Illinois is asking people to re-evaluate how they use their time and money this Christmas. Were confident that if we redirect our attention and our resources to those in need around the world, it will not only rock the socks off the slums of Nairobi, but it will enhance our Christmas season, as well.
A little money goes a long way in Kenya. Together, we can make a difference. Our church is taking an offering on Christmas Eve in an effort to raise $60,000. If we do, the Mathare Valley slums of Nairobi will never be the same. A new school will be built where children will receive an education, two meals a day and needed health care in the name of Christ.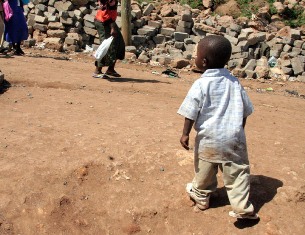 This new school will be equipped with a school van and a new a playground. Infected people living in the slums will receive malaria treatments and preventative mosquito netting. Kenyans, who typically sleep on a dirt floor using their extra clothes as a blanket will receive mattresses, bedding and soap.
Our Christmas money will be used to purchase an incinerator that will turn garbage into usable heat, creating dozens of jobs. Well be able to build flushing toilets, showers and provide running water to a community where theres currently only one water point that provides drinking water to more than 100,000 people.
So what does it mean to be different? People are making funds available to give away in a variety of meaningful ways:
Some of us are giving a percentage of our Christmas budget to the people in Kenya.
Others are giving up soda or going to movies in the month of December.
Some are asking their friends and family to give them a Kenyan gift certificate , indicating that a donation has been made in their name to the projects in Nairobi.
Families are giving relational gifts rather than purchased gifts.
Its an Advent Conspiracy of sorts. In January, Christmas will have come and gone… again. This year, I wont have to wonder if Ive missed the point.
For more information about A Different Kind of Christmas, visit: www.wschurch.org/Christmas
To view the blog from Melissa's recent trip to Kenya, visit: www.ADifferentKindofNovember.wordpress.com
Read about others who are igniting an Advent Conspiracy at: www.adventconspiracy.com
If you liked this article, check out: A Different Kind of Christmas: Hope from Junior High kids

---

Melissa serves as the Director of Small Group Ministry at West Side Christian Church in Springfield, Illinois. Melissa is a graduate of the University of Illinois and Lincoln Christian Seminary. New experiences, meaningful conversations, and Lemon Supreme Pie from Bakers Square make her jump for joy! Melissa is often found reading great books, running outdoors and spending time with her husband, Chris. Shes passionate about church leadership and helping the urban poor in Kenya. She can be reached via email
.