By Tim Kurek
There are few people I've met in my life that capture what it means to be a CHRISTian as much as Jim Palmer, and it's my hope that you'll go pick up both Divine Nobodies & Wide Open Spaces.
Jim's background includes pastoral ministry, inner-city service, and international human rights work. As a writer and speaker, he encourages the freedom to imagine, dialogue, live, and express new possibilities for being an authentic Christian, and knowing God beyond the boundaries of conventional religion. Jim enjoys doing triathlons, eating pizza, and sharing life with wife Pam, daughter Jessica, and dog Jack. He resides in Nashville, Tennessee, and can be reached at divinenobodies.com.
What made you feel led to write Divine Nobodies?
There were many times during my shedding religion days when I felt on my own, and wondered if I was going crazy. I was losing my religion but still desired to know and live truth. I left organized church because it wasn't helping me know God. I knew I was on the right path but trying to explain that path to others was exasperating, and I often feel misunderstood. My new life beyond religion wasn't quite as defined as things once were. I had twice as many questions as I did answers. Sometimes I doubted myself, and craved a religious fix to make me feel better. I desperately wished someone (anyone!) would just have accepted me for where I was with God. What I would have done for just a couple of people I could have sat down with face-to-face and talk with about all this stuff without the threat of judgment and condemnation.
In most cases my Christian friends at the time were not able to truly listen, understand, or accept me. One motivation for writing Divine Nobodies was hoping that by telling my story that others on a similar path would be encouraged by knowing they aren't alone or going off the deep end losing your religion maybe, but not losing your sanity…perhaps for the first time gaining it.
The common thread throughout that volatile season was the ordinary and unsuspecting "nobodies" God brought into my life to show me a different way. A waitress, tire salesman, hip-hop musician, mechanic, tattoo artist, swim teacher, and a severely disabled little girl were some of the people who helped awaken me to new possibilities with God.
Having a Masters of Divinity degree, you would think these sorts of epiphanies might have come when caught up in some deep theological study. But that's not what happened. What happened is what I've attempted to tell in Divine Nobodies. God opened my eyes, not through theological and philosophical flashes of brilliance, but through the unlikeliest people, which I, well, just kind of ran into along the way. Everyday run-of-the-mill types, like you and me. Each of them unraveled a bit more the mystery of God and stretched the capacity of my soul to know him.
I've learned to keep my eyes wide open. You never know whom God will send across your path to awaken you to the truth that changes everything. The answers to the most important questions reside inside us but sometimes we need a little help discovering them for ourselves. We are all students and teachers. Some of my teachers who helped unplug my ears and open my eyes to God were smeared in axle grease or sporting body piercings and tattoos. Conditioned to expect God in church buildings and worship services, I never figured on running into him at Waffle House.
What if all us nobodies of the world discovered we are carrying the life of God inside these jars of clay. And what if we weren't so preoccupied with becoming somebodies that we became fully present and opened our lives to others God brings across our path or draws us to. And what if us nobodies, understanding God is perfect Love and dwells within us, began to unconditionally and indiscriminately open that flow of divine love to all people as we go and wherever we are. I'm convinced this could change our world. It would be you and I living AS Christ in the world. Like Jesus of Nazareth, we are all divine nobodies, it's just some have not discovered this yet.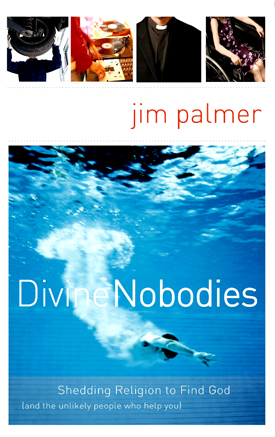 In Divine Nobodies you talk about God actually speaking to you after you lost your marriage… How did that experience differ from regular prayer/being "led" by the Spirit?
For many years, my general understanding of being "led by the Spirit" was influenced by several misguided notions. First off, despite all of Jesus' teaching about living within me, I still more of less thought of God as a divine satellite up in the sky somewhere. When my prayers made contact, I imagined the God-satellite slowly turning in my direction and zapping me with divine guidance or whatever help I might have needed at the time. Later I discovered that the source that supplies for every one of my spiritual desires and needs is within me through the life of Christ. The source of love, peace, joy, freedom, contentment, wisdom, compassion, and courage are perpetually available inside me, and I can turn towards and live in these whenever I choose to.
My other mistaken assumption was that a person is mostly led by God through their mind. Going back to the God-satellite example, when God zaps you with his guidance you can expect it to come in the form of thoughts and understandings in your head. Jesus' main message was, "Repent for the kingdom of God has come." People wrongly think the word "repent"means feeling sorry about past wrongs. The word "repent" (metanoia) means to change the way you process life or living beyond the mind. It involves appealing to a different source when it comes to determining spiritual reality. We all can probably relate to the idea of having an "intuition" about something or knowing something to be true "in our gut." I've discovered that a more reliable way of being led by God is to listen to that intuition or deep gut feeling, as opposed to the logic of your mind.
So, here's how I would paraphrase practically Jesus' message about the kingdom:
"God's kingdom can be a present reality for you here and now, but to live in this reality you must learn to listen and follow the deep feelings that speak within you." It's not difficult to tell the difference between "feelings" of lust, greed, pride, and hate (which are more workings of the mind then really "feelings") and those intuitive/gut promptings which are the life of Christ stirring within you. It was suffering that caused me to begin paying more attention to what was going on inside my internal world.
What sparked your idea for Wide Open Spaces? Why did you felt led to continue the saga, so to speak?
Divine Nobodies was only half the story. Wide Open Spaces continues the story of my exploring and experiencing God beyond religion. More and more people seek a deeper spirituality beyond status-quo religion. Others are left empty and weary from a shallow and narrow pop-Christianity. Sometimes you have to disentangle God from religion, truth from doctrine, even Christ from Christianity, in order to find your way with God. Each chapter of W.O.S. revolves around a central ques
tion I've had to wrestle through in order to be free.
Many people become disillusioned with organized church/religion get stuck in anger and bitterness. It's not that novel to point out how others are getting it wrong, and then go to an opposite extreme. I wrote W.O.S. to offer an alternative. What does world "Christianity" look like, minus all that crap we have managed to muddle it up with? The book is one answer to that question, showing how it has evolved for me.
If there is one thing you want the reader to take out of either book, what is it and why?
I wish people had more confidence in themselves when it came to their relationship with God. You don't need a PhD in Philosophy from Harvard University or a Masters of Divinity Degree from Princeton Seminary to know God. We listen to everyone else except ourselves, and sometimes have a vicarious relationship with God through whoever we put up on a pedestal in our Christian sub-culture. Sometimes church life functions as groupthink, and we shy away from asking questions or listening to that still-small-voice inside telling us something isn't quite right. Maybe we should create an experience like the TV show Lost, but in this case we drop off a cashier, postal worker, photographer, plumber, and animal shelter worker on a remote island, and tell them to figure it out with God. I have every confidence they would together discover something that would help all of us.
You have been to South Asia where you witnessed little girls who were being forced into prostitution? Where was God in all their pain and suffering?
Religion tends to place God somewhere out there or up there in the sky. The religious logic naturally follows then for people to summons God out of the sky to intervene into human affairs, particularly to protect or rescue people from pain and suffering. This seems an odd notion to believe for Christians, particularly since Jesus Christ was divine life clothed in human flesh who saved the world from inside it. As mentioned, the metaphor of "the body of Christ" conveys that the divine life is still present on earth in and through us. Strangely, Christians sometimes fail to realize and live out the implications of the truth that the infinite God is dwelling within us and therefore placing God in close proximity to the needs and problems of humankind.
I hear in Jesus' words "the kingdom of God is within you" that the mind and power of God are within us to both conceive and give birth to his will "on earth as it is in heaven." In the face of human suffering, we sometimes look into the sky petitioning God to come down and do his God-thing and solve it. Instead, I believe God replies by saying, "YOU fix it." The reply, however, comes from within reminding us that we move in concert with God as God lives his life in and through and as us.
One million new girls every year are forced into child prostitution around our world. I locked eyes with several of these little girls, moments before they were auctioned off to the highest bidder to be raped. To be honest, I sometimes wish I could just forget the whole freaking thing and go about my merry little life. I can't. The God inside me loves these little girls and so they have found a place within my own heart. The common question is, "Where is God in the midst of the pain and suffering of the world?" Once I truly realized that God is present within me and present to the world through me, the question shifted to, "Where is Jim in the midst of the world's suffering?" The "God and human suffering" question often drifts off into all sorts of theological, philosophical and theoretical debate, meanwhile little girls stand in long lines at makeshift clinics around the world to receive medicines for any number of sexually transmitted diseases.
What the people at International Justice Mission taught me is that God shows up around the world to bring rescue to these girls and other victims of injustice through the intervention of people like us. I decided in conjunction with my books that I would speak out about this injustice and encourage people to become active in efforts such as IJM. I made a promise to myself about these girls that I would never forget them.
Confronting oppression wherever it exists and bringing rescue to victims of injustice wherever they are is a reflection of the heart of God in our world. God's kingdom is one of love, beauty, wholeness, freedom, peace, truth, and justice. Some people seem to be sitting around waiting for God to drop it on us. Maybe God wants to give birth to it through us.
Thinking of those little girls in South Asia , the next time brothel doors are kicked down by IJM operatives, perhaps one of those girls will ask, "Where is God in my pain and suffering?" I believe the answer is, "God did not send your pain and suffering, but God enters into your pain and suffering and shares it with you. God is here now rescuing you, and God is able to bring deep healing and transformation from his life within."
---

Timothy lives in Nashville, TN. He blogs at
The Evolution of God.