By Tom Schiavon
I am learning what it means to be a pilgrim, torn between two worlds and feeling as though I am not a citizen of either.
I am a citizen of an earthly kingdom, the city of man, which calls to me like the Sirens, alluring me with it's beauty and charm. I want to feel the soft support of Italian leather as I shift and speed out of a turn along the Pacific Coast Highway in a Maserati. I want to empty a bottle of wine with a lithe, dark-haired woman I hardly know. Trading witty conversation and stealing furtive smiles long into the night until we watch the sun rise over the Mediterranean.
I want to know the pulse-quickening excitement of hearing a filled auditorium lauding my latest achievement. I want to wake from a refreshing sleep, don a plush terry robe, and enjoy a steaming hot cup of espresso while I scan a Tuscan vineyard from my bedroom balcony.
Just once, I want my quixotic idealism to be justified, rather than my tyrannical cynicism.
I am also a citizen of a heavenly kingdom, the City of God. I want to see the world a more just place, not just in the vaunted halls of Congress but in the darkest corners of Darfur. I want to see the love of Christ transform every person I will ever meet.
I want to see men beat their swords into plowshares and their spears into pruning hooks. I want to see the day when homeless shelters close their doors because they are not needed anymore. I want to overflow with joy to see less political rhetoric and more love and justice exhibited by our politicians.
I want to be more selfless, and to be part of a people who love to serve others. I want to know that, someone, somewhere, has been so moved by my words that they laugh again, cry again, or learn how to smile again after what has seemed like an eternity. I want to give more than is prudent, sacrifice more than is wise, and love with such reckless abandon that people look at me like I have lost my mind.
Scripture tells me that I am a pilgrim. A pilgrim doesn't stop at every wayside attraction en route to their destination. A pilgrim keeps their eyes focused on reaching the goal. A pilgrim never looks back, only forward. I am not a very good pilgrim.
Many times I opt to exercise my citizenship in the city of man. It's not that the pleasures there are more sublime, lasting, or even pleasurable. In fact, their pleasure rarely lasts more than a few seconds. But it does have this advantage over seeking the City of Godit is more immediate, visible, and accessible. As I travel, I find that the road is indeed broad that leads to destruction, and the road narrow that leads to life. Not to mention it also has thorns, and scorpions, and perhaps maybe even wolves.
But I am learning that my Father loves me, and guides me on this pilgrim way. He goes before me and clears the path before me, or leads me through the rough parts, and never leads me on a path I cannot follow. I am learning that the pleasures of this world are nothing but rust-filled, moth-eaten, easily lost trifles. Some days my pace is quick and lively, some days it is weary and loathsome, but I walk the path nonetheless.
I am learning to be a pilgrim.
For I consider that the sufferings of this present time are not worth comparing with the glory that is to be revealed to us.
If you liked this article, check out: Leaving Suburbia: Feeling sane for the first time

---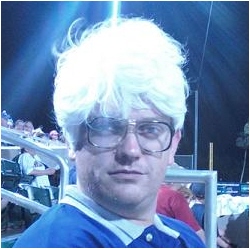 Tom

is an avid Cubs fan whose most recent laudable achievement was singing "Take Me Out to the Ballgame" dressed as Harry Carey at the local minor league baseball game.