By Jimmy McCarty
There is a story from Kerala, India that I must share. While we were there we were blessed with the opportunity to serve in a leper colony with over 100 lepers. One day when we were there it was pouring rain. We had gone planning to hand out snacks to the lepers, which we did even though they were soaked. We also prayed with those who wanted prayer, sang for those who wanted song and just talked and laughed with them. But the most important thing we did was hug them.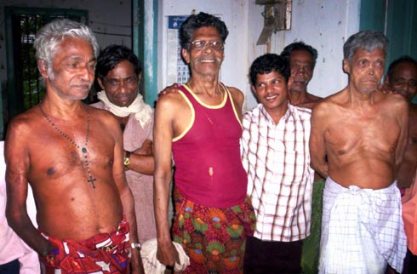 I shook hands or hugged nearly every leper there. It was so important that they were touched, and that they knew we cared for them enough to break social stigma and touch them. Ever since that moment I do not read the stories of Jesus touching and healing lepers with the same eyes. I know the power my touch had on lepers so I have no doubt Jesus' touch could have enough power to heal them.
As we walked around that leper colony handing out snacks and hugs there are two people specifically that I will never forget. I met many lepers.
I saw people in the beginning stages of leprosy who still looked normal, and I remember one lady specifically who had lost both legs, an arm and her nose. But there are two people who had a huge impact on me, Maroni and Jacob.
I met Maroni as I handed her a snack and gave her a hug. She had a small radio near her playing traditional Indian music, and so I started dancing as I prepared to leave her bedside. She found this hysterical and laughed out loud at me. I grabbed her nub of a hand and we danced for the rest of the song.
At the end of the song she was crying, and I was fighting back tears. She said, through a translator, that that was her first dance in over twenty years. She thanked God for me, and I was humbled and grateful for the moment. I was able to give her the gift of dance, but she was able to give me the gift of true gratitude. I will never forget the joy she had during those few short minutes. It's the most memorable dance I've ever had. I truly believed I saw God in the face of Maroni as I danced with her, a leper.
From her bedside I made my way into a single room. I found this odd since most people lay out in large rooms with beds next to each other. In that room I found Jacob. When I met Jacob he was not only a leper, he was blind.
I placed the snacks in what used to be his hands and sat next to him on his bed. He said, "Praise the Lord!" So, I said, "Praise the Lord!" Then he said, "Praise the Lord!" again. So, I said "Praise the Lord!" This went on back and forth for several minutes. I think it's all he knew in English, but it was enough for both of us to have a deep theological conversation.
In the middle of a leper colony in southern India Jacob, a man who had lost everything through leprosy and then his eyesight, and was forced to live as an outcast, praised God with me. That moment was very powerful. Tears fell from his clouded eyes as we shouted, or sang, or prayed or whatever it was we were doing.
This time I wasn't able to fight back the tears, and I cried as well. It was the time in my life when I found myself most grateful to God. It is weird to think that I was so grateful amongst the midst of so much suffering and neglect, but I was grateful because of the amount of love for and thankfulness toward God.
I walked away from that day forever changed. A dance with a leper and my world was turned upside down. I no longer can read the Bible the same. I no longer understand Jesus, God, Christianity or faith the same. I saw Jesus face to face and he looked nothing like the paintings I see in America. He had clouded eyes, no feet and likes to dance to the sound of a sitar. Who knew?
We were not allowed to take any pictures while we were there due to the lepers' concerns, based on past experiences, with being exploited. However, I came across this picture from a leper colony in India and I am almost 100% sure that it is from the colony we worked in because the man in the second picture on the far right without a shirt is one of the people I am going to talk about, and I recognize another man in the picture as well. I was so excited when I came across these pictures.
If you liked this article, check out: Hope in a Leper Colony

---
Jimmy recently graduated from Pepperdine University with a B.A. in Religion. He currently attends Claremont School of Theology and is pursuing a Master of Divinity degree with an emphasis in Urban Ministry. He serves the "least of these" in Los Angeles and overseas in India, Uganda, Kenya and the Caribbean. He gets married really soon and can't wait for the next phase of life. He is also not to be confused with the other Jimmy McCarty that writes for Wrecked – what a small world!