By Karen Swank
I started writing this earlier in the month, on my 42nd birthday…
Heroes. Don't we all love them? Our conversations, our dreams, our stories are colored with their exploits and wisdom. Though we each choose our heroes differently, most everyone is stirred by a well-told tale of how someone saved the day, rescued the victim, or somehow brought justice.
I'll tell you something about me that I suppose may make you laugh or at least roll your eyes, though some who know me well will not be a bit surprised by it. I have been an avid reader since I was very small, and for as far back as I can remember I have seen myself as the Heroine of my Very Own Story.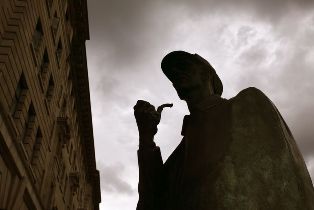 I can remember being eight years old, walking out to the horse pasture, composing in my mind the epic story of my days, adventures and motives, forming the words and phrases to flow just so. In even the darkest points of my life, a certain part of me has stood back and made mental "notes for the audience," wending the tale artfully to and fro for the Best Possible Retelling. In other words, one of my biggest defining character traits is a desire to Be the Hero.
Am I different from anyone else in this realm? I don't know…honestly, I am too self-centered to judge such a thing.
Which brings us to the theme of the past year of my life, and a whole new chapter for me…a sudden explosion of awareness of motives and approaches I never really understood within myself. It is disorienting and humbling to awake – in the midst of striving to save the world singlehandedly – to the sudden understanding that I am just another selfish person feeding my own needs and desires first and foremost…just another worshiper of the modern-day lie that says It's All About Me.
Selfishness, after all, does not always look like pushing to the front of the line or taking the last cookie. It comes in many forms.
It says I know what's best for you, and you're not smart enough to figure it out yourself.
It says If you love me, you will do what I want, when I want it, in exactly the way I want you to do it.
It says When you don't, you are taking an intentional shot at me.
It says You owe me the fulfillment of my expectations for your life.
It says When you fail by my measure, you owe me for the pain that failure causes me.
It says My pain is your problem to fix.
The truth, for one who can step beyond the super-sized looking glass of the selfish would-be hero:
It's NOT all about me.
Others in my life do not exist for the purpose of living out my visions and plans for them. They don't "screw up" in a deliberate effort to disturb my own personal peace. They don't owe me reparations when I am disappointed in their choices. They are not pieces on my own personal Make Me a Hero board game of life.
Sometimes we begin with passionate hearts to serve God, and find ourselves derailed along the way…shoving Christ out of the Hero Seat and claiming it as our own. My 41st year marked the spot where I awoke in His seat, felt myself crumpling under weight that was not mine to carry…and discovered the freedom in climbing back down where I belong. Not the savior of the world…just another little soldier in a great big war.
My goal for year number forty two: to serve where I am called, and step off the stage of my own personal Be the Hero show.
How about you?
---

Karen is from Aledo, IL. She went to Monmouth College and studied Latin and English. She is a biological mom of two children and surrogate mom/friend/advocate for a whole host of children. She would like to meet every wounded soul that I've she's ever known… as a child, before the "damage was done" so she could tell them how much they are loved.