By Mark Zimmerman
Continued from Back to Jerusalem
By June of 2006, I had walked in the front door of Building Hope in the City – www.buildinghopeinthecity.org – a ministry of Trinity Lutheran Church at West 30th and Lorain in Clevelands Ohio City neighborhood. There are many inner city ministries in Cleveland. Certainly lots of bigger ones that get most of the press coverage between Thanksgiving and Christmas (the time the poor and homeless are most noticedand tolerated), but I wasnt looking for the biggest or the shiniestI was looking for where I fitand at TrinityI fit.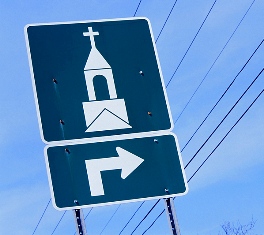 I committed to bring a team from my church down to Trinity one Saturday a month to handle the Community Dinner. I was told that about 100 people usually showed up. Some were working poor from the neighborhood, some were just looking for a freebie, and some were homeless.
I was excited. And I shared this excitement with my wife. But, she said gently but realistically, you cant cook."
Details. Have you ever been inside a GFS? It's a wonderful place for someone like me. We started slow, and GFS-ed our way through the first few months of feeding whomever came in the doors. I walked in that first Saturday knowing absolutely nothing about these people: who they were, where they lived, how they lived. I just grabbed a plate once everyone had been served, and sat down to listen.
It was the usual: politics, sports, the neighborhood. Within two months, I knew who the know-it-all was, who the peacemakers were, and who was always trying to get "thirds" when they tried the con that they hadnt had "seconds," yet. My wife played hymns on the keyboard as people ate their dinner. It had a calming effect on the place… the conversation changed. They started talking to me.
Thats my favorite hymn.
My mother used to sing that to me.
She plays that so beautifully
Connection. A bedtime song. A confirmation day with a beautiful dress and a party at home after church. A family photo long ago lost. I started asking questions. About them. About life. About faith. And I kept listening to their answers, their opinions, their "street theology." I asked for permission to pray for them and with them. I asked them their names. And I remembered them. When they walked in the door, I would greet Ralph, Juanita, Paul, and "Red."
I would make sure eight-year-old Maria would find one of my daughters to start a game going for the kids, and that her older brother Josh would find something to do to help me. I would make sure to tuck away some of the unsold bread Panera would send over, and save it for Angie. Angie didnt eat the bread, mind you, she lugged back across town to feed the birds and the squirrels of Clevelands near East Side.
The number of people at my church who wanted to help was growing. Hey, can I come back with you again next month? We started experimenting with the menu selections. What if we did meat loaf next month? I asked.
Does GFS have meatloaf?
No… what if everybody just made their own recipe? Lets try that. It worked.
This tastes like my moms. Hey, can your wife play 'Ill Fly Away' next? Connection. Mom in the kitchen. Dad coming home. The aroma that meant "homework can wait." Over one year into my time volunteering with Building Hope in the City, Ive learned a lot. As Ive met others in the neighborhood, talked to other ministries in the area, attended seminars, and looked at web sites, Ive accumulated some interesting information. (Like www.census.gov the U.S. Census Bureau can give you some very interesting stats other than people and incomelike whether English is the primary language spoken in a state, or a city, or a neighborhood) So, with about 18 months worth of volunteering, and a dangerously low amount of accumulated knowledge rattling around in my head, heres what I think Ive figured out:
The government isnt going to solve poverty. If the economic/industrial expansion of The Gilded Age of the 1890s didnt do it, if the New Deal didnt do it, if the gazillions of dollars of LBJs Great Society didnt do it, guess what? The solution will not be found on Capitol Hill, at the Statehouse in Columbus, or at Cleveland City Hall. Is Cleveland the poorest city in America? By the terms of measurement used by whoevers controlling the stat sheet in DC… yes.
But Cleveland is also poor in spirit. And it doesnt matter if this is The Best Location in the Nation, or if Clevelands a Plum, or that we can now boast of Cleveland+. The key to ending poverty is people. Gods people knocking at the door of the human heart, one heart at a time. The church holds the key to social change. Look at every significant social change in American society. The colonization of North America. The birth of the United States. The abolitionist movement. Prohibition. The civil rights movement. The peace movement. Two Great Awakenings, and many steep moral declines. The one thing they all have in common is either the inertia of the church to start it and sustain it, or the removal of the same.
The suburban church is good at writing checks. Well, look at how nice most of the bright new suburban churches look! Is that bad? No, if the building is aiming you out the door to serve and not herding you back inside to sit. Recently, I heard Alistair Begg speaking on the topic of service. He asked why it was that liberal denominations that had their theological feet planted firmly in the air were cornering the market on "good works." Great question.
Ive admired my Mennonite friends for a long time, and in the last year, I read a short book on Mennonite theology and I came away more impressed. Mennonites have the audacity to believe that James was right when he said that faith without works is dead. In fact, if you dont show the evidence of works in your life, a Mennonite will question whether your faith really exists. What Im saying is simply this: the suburban church needs to take the focus off itself, and retake the cities it has fled in the last fifty years… for Jesus sake. Not with donations and programs. But with our hands and feet.
You get more out of this than you give. From the steaming barrio in Santo Domingo to a lonely country orphanage in a cold, dark-at-4pm northern Latvia, it works. I look forward to my Saturdays at Building Hope in the City as much as any day of the month, because I get out more than I give. From the people that serve with me, to the people I serve, Ive discovered another piece of the Gospel: The parable of the "Good Samaritan." It echoes how I saw the homeless for many years. When I worked in Downtown Cleveland, they were always there. I just chose not to see them. Years of saying I was following the Lord passed only to realize that its a lot harder to walk next to Him when you keep crossing back and forth across the street to avoid the people you dont want to touch… or see… or smell.
We need to go back to Jerusalem. Lets go back to that rap festival on the West Side with Pastor Max. As I was looking at this scene of a church meeting that neighborhoods generation where it lived in the street Pastor Max was talking about Acts 1.8. You know the verse: Jesus is talking to his followers before He ascends into heaven. He tells them to take the Good News from Jerusalem (the city), to Judea (the close by), to Samaria (the place we may not want to go), and to the ends of the earth (the suburbs, everywhere we feel safe these days, and yes, onto what we traditionally call the mission field).
Pastor Max said, Weve done a good job at the ends of the earth. Suburban churches are growing and building; there are thousands of short-term trips going overseas every year. Then he said: What we really need to do is get the church back to Jerusalem… we need to get back into the city. Hes right. Did you know there are almost 10,000 vacant buildings in the city of Cleveland? What if the church started buying them for pennies on the dollar… and coming back to the city?
I cant turn my hometown around all by myself. Neither can you. Okay. So where do I start? On November 15th &and16th, WCRF will hold an event called "1 Night on the Street." During this live broadcast event, direct from West 30th and Lorain, listeners will hear about the needs and opportunities in the city. By way of a web database, and a phone bank at WCRF, listeners will be able to connect with and commit to city ministries of all kinds:
Feeding the hungry
Clothing the poor
Tutoring children
Tutoring adults
Teaching English as a second language (ESL) programs
Helping with senior & nursing home programs
Job training
What makes this event different is that there will be no fundraising, and no "stuff-raising." Were raising people. Its time to go back to Jerusalem.
---
Mark is from Cleveland, OH and works for WCRF 103.3 FM. For more information on his call to serve the urban poor, check out 1nightonthestreet.org .