By Ally Hubbard
My friend Steves story (see Distressing Disguises) does not end with his first bath and haircut in years. Even though the beauty of Steves physical transformation brought a tremendous amount of hope to both Steve and I, the Lord wasnt finished with Steve and consequently, neither was I.
The days following Steves haircut were filled with encouragement as the Lord spoke to me about how He makes a way through the seemingly impossible and promises not only not to forsake us, but to give us the very desires of our heart. During my visits with Steve I started to talk to him about life – his life prior to Kensington Avenue, the past 16 years of his life on the street, and most importantly about the abundant life we find in Jesus.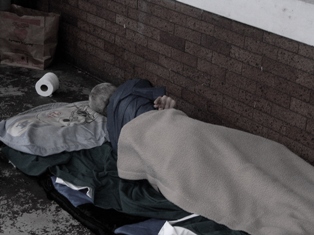 It seemed like every time Id go visit him I would hear another story about shopping cart Steve as he was known on the streets. I heard stories about his heroine overdose that left one side of his body completely numb and his speech incomprehensible and stories of how often Steve would become the target for sick jokes and abuse to an unfathomable extent where people would defecate on him while he was sleeping.
My heart began to physically hurt for Steve. I began to learn how to cry out to the Lord not just figuratively but with real tears. Finally, one day I asked Steve a simple question, What do you want more than anything?
Steve understood I wasnt talking about a meal or a cigarette He licked his finger and traced a house on the sidewalk and spelled out home. In that instant the Lord granted me confidence in Him like I have never known. I said, Ok, Steve, knowing deep down that the Lord had claimed Steve for His glory and a way for him off the streets would be made.
As trial after trial seemed to scream, This is impossible! my confidence in the Lord remained unwavering as the promise of His faithfulness kept me searching for a way. I remember one day in particular that will always serve to illustrate for me the perseverance that we are called to as we fight on behalf of the least of these. In order for Steve to get into any type of home, detox was a must, and according to the system there were no more chances for Steve to go through detox. However, this one hospital more than likely got annoyed with my phone calls and finally promised him a bed at 2 p.m. the following day.
I loaded up Steve, telling him of this hopeful promise only to reach the admittance counter where a nurse sat who had no idea what I was talking about. Hearing her confused response Steve ran out of the waiting room looking at me like I was just another person who had let him down. I refused that and begged the nurse to let us stay and see the doctor. When I heard the doctor was going to see him three hours later I was super excited. Then, the unimaginable happened. As the doctor turned the corner he had a tissue over his nose and proceeded to ask me what that smell was. He acted like Steve was disgusting and inhumane. He told me that they couldnt admit people in Steves condition. I politely reminded him that as a state-run facility I did not think he could not discriminate based on someones smell, and let him know that I didnt appreciate the way he was treating my friend and concluded with, And we will be right here waiting for you to figure this all out.
Throughout hours of negotiations with insurance and the doctors, I kept praying that doors would be opened. But in the meantime Steves blood pressure shot up and he needed to be taken to the ER. So I rushed Steve across town only to find more closed doors and exceptionally rude people.
The doctor in the ER kept letting other people in front of Steve and asked me why I was sticking aroundhe clearly didnt see the point in treating Steve. With tears running down my face I remember telling Steve that everything had already been handled and would work out for the best. At 2 a.m. Steve was discharged and I was called to come get him. I found him outside asleep on the curb. I didnt know what to do with him and didnt want to leave him on the street. So, Steve stayed on our porch and came into out house to eat meals and shower; he was a part of the team I was leading, for sure. As we got to know him so intimately we all started to understand the oppression around us on a deeper level.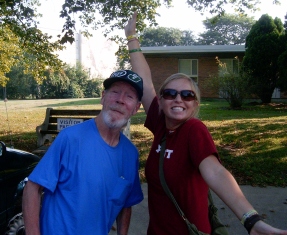 Finally Steve got to visit a potential home. I had been told that if by chance he did get in I wouldnt be able to bring him back until 3 or so days later. I was running out of ways to keep Steve off the streets. Later, the social worker came in with tears in her eyes and told us to bring him back the next morning for good! That night my team threw a surprise party for Steve. We got him some new clothes and things that he needed for his new home.
The look on his face when he walked into our house was priceless. He started to cry tears of joy. As excited, as I was to see Steve off the street I think the best part was no doubt being able to show him that the Lords word does stand firm and that He does make a way and give hope to the hopeless. When I dropped Steve off he was really nervous about going through withdrawals alone, but was confident that they would give him a pill to weaken the symptoms.
The next day when we came to visit him, he held his hand out and showed me it wasnt shaking. I assumed that they had given him the pill, but he said that he hadnt experienced withdrawals at all! The week after Steve got into the home all kinds of people would see us on the streets and ask where Steve was. It was so beautiful to get to share with them the work of the Lord we had been talking to them about, a God who redeems the lives of "nobodies" and gives comfort and safety to the marginalized.
Steve has been at his home now for over almost a year and a half. I try to make the trip to Philly to visit him at least once every six months. I sell I believe in Steve shirts in order to keep a little money in his fund at the home. He gets to go to speech and occupational therapy and knows the Lord loves him a whole lot.
---

Ally
is a south Georgia native and soon to be college graduate. She is learning to be faithful in the small things as the Lord pulls back His bow, preparing to launch her onto what will undoubtedly be a crazy adventure. She love teaching Zumba and is easily excited by good deals and, even better, coffee.