By Seth Barnes, Jr.
I sat at my desk in my dorm room reading about some crazy bunch climbing a volcano and roasting marshmallows on the molten lava as an economics book lay my lap, open and waiting to be studied. As I read and watched a video documenting the event, an excitement welled up inside me. I yearned to be in their group. Oh how I longed for that adventure! I returned to my studies.
That was about nine months ago. Now, I am about to make this dream a reality. In four days the World Race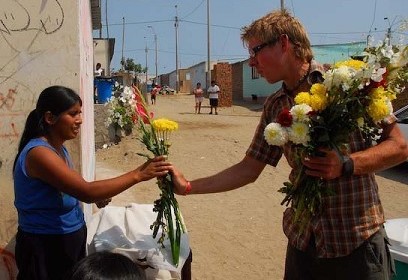 training will commence.
As I look back on my life, its easy to see its been all about education. It seems Ive been limited to learning alone for the past twenty-two years. Ive been studying books that I dont enjoy; Ive been cramming information into my head so that I can spew it out onto a page so that I can progress to the cramming of more advanced information. Every Friday I would run out of class and finally feel free.
Its easy to see that I lived my life for the weekend. It was easy to live for the weekend. It still is. It is easy for me to see life for what it can offer a box of pizza, a movie, a bottle of beer, a football game, a wife and kids, a car, comfort, luxuries, things I want; and I do want them. It is so easy to forget that all the while there are angels and demons fighting for our souls; to forget that the whole reason why any of us live is to do something to benefit evil or good, and doing nothing benefits evil; to forget that time is not money, it is a relationship with the man in ragged clothes against the wall outside the difference of an eternity for this man is your next hour. As my dad frequently says, We are not human beings having a temporary spiritual experience. We are spiritual beings having a temporary human experience. This should be our reality.
I feel like my life is just beginning. I am done reading about these adventures. In four days I begin training for the World Race and in two and a half weeks, I begin travel to Thailand. I will be the one hiking that volcano in Guatemala. I will be the one ministering to that widow. I will love and comfort that orphan in Swaziland, build that home for that homeless family in Cambodia, feed those starving people in South Africa, speak truth into that prostitutes life in Thailand.
I will be traveling around to 11 countries in 11 months meeting the needs of the communities Ill be in. All the while, God will be showing me more of who I am in His eyes. Ill be learning through experience how to make an impact on peoples lives. I will train myself to close my human eyes and see with Gods, to walk by faith and really live. I desperately want to live a life thats real. For the past twenty-two years, I have been preparing myself. Now, my life is just beginning.
---

Seth Barnes, Jr. is from Gainesville, GA and is part of a family of seven, including four sisters. Seth recently graduated from Taylor University and will be going on the World Race in September '07. Two of his favorite things are coffee and music.