By Linnea Molgard
Awhile ago, my husband Scott and his friend Marc left the comfort of home (and their wives and children) to embark on a "Man Hike" in the Colorado Rockies. Some of them had been blogging about the need for men to get away together, so they met up with some friends (as well as Scott's brother) and set out into the mountain wilderness.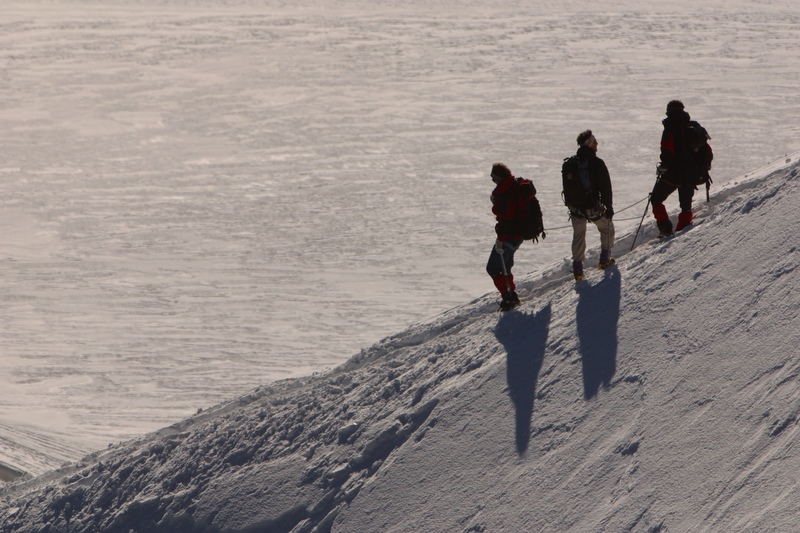 I don't know all the details of what went on out there; I'm not sure I want to know. What I do know is that I got 19 text messages all along the lines of "miss you", "love you", "miss my fam" during that week.
Now, don't go thinking that Scott's a pushover and that he couldn't "handle" being without his wife. I'm sure he could have easily spent the week on a ridge somewhere enjoying the scenery and called me as he was getting off the plane in Boston.
But, when these men get together, especially with a mentor, something sparks in them. Two rocks collide, and a spark ignites the fire inside them. They start speaking life, worshiping God, and building community. Does this happen in a pew? It may for some men, but many more would argue that true brotherhood, pastoring, and impartation occur on the battleground. (Okay, so the Rockies aren't that dangerous, but they have grizzlies… that's more danger than a pew. The only danger of the pew is complacency, which may be more detrimental to living an abundant life.)
Scott hiked, camped, shared, journaled, prayed, interceded, prophesied, listened along with five other brothers in his band. Seth (the sage) spoke wisdom, encouragement, and empowerment over boys who were stepping into their own as men. (I'm not calling Scott a little boy. What I mean is that Seth has a few more years of experience, education, etc. that he's willing to share with anyone willing to receive it.)
The idea that men can just go for a hike, hang out, have deep conversation, pray a lot, and learn a little bit over a few days and come home refreshed and ready to give of everything they are is how I'm affected. Confused? Don't be. I'm with Scott at home, at work, at church, etc, and let me tell you, I love when he gets with people who are seeking more. Sometimes, the monotony of life can drag a man down; it can lead him into going on "autopilot" (TV, video games, golf). It can leave him content with the status quo. There may have been a dream in there somewhere, but it got lost when the baby was born, and the responsibility of taking care of an infant superseded the vision. That's when a man gets lost.
When the vision dwindles, the house can get chaotic; there can even be a power struggle. If there's no dream, then what am I living for? Women usually pick up the pieces when this happens. We're good at cleaning (not because we like to, but because we're freaks about cleanliness — figuratively, of course). So we, as women, keep trying to keep the house of cards from falling, thinking that we're fitting the role we were designed for, and that our spouse should be more than impressed with how we hold it together by just balancing it all.
Ladies: we're not meant to hold it together. We're not supposed to help the men in our lives survive on autopilot while we get stressed because we've filled the role of leader in our homes.
Lately, I've realized in my own life how going on "auto" can affect a marriage. I would go to work, come home, put the baby to bed, and watch TV or a movie. With both of us trying to work full time with an infant (who's not in daycare), and the health insurance under my name, I felt the stress of needing to work long and hard. But I also wanted to be the best mom ever to Jaron. And I wanted to be the most loving wife to Scott. But it was too much.
So when Scott returned home and began talking about our dreams and goals, I realized that what I was doing wasn't what I desired. I was only doing it to try to fill the "responsible" role. I didn't let go because of a fear that we wouldn't be able to be insured or that we'd not make enough money now that we have a baby. So when I shared with Scott that my desire is to be a mom primarily and work a few hours a week, he was elated (not what I was expecting at all). Scott was excited about filling his role as husband and father, caretaker and provider for our family (we both know that it's God who takes care and provides for us).
Women: we can't guide men into their identity as men. Which is why when Scott wanted to try to get some men together and go hiking, I said, "Absolutely!" When men get called out to greatness by other men, they can't hide. For sure, I tell Scott how wonderful he is, how he's the only man for me, and that he's a great husband and father, but other men can do more to awaken the man, the leader, the visionary in our homes. When men are willing to be vulnerable (emotionally and spiritually) in an environment that doesn't allow for fakeness or egos, something happens. That fire fans into flame…
And our son and I reap the benefits.
---
Linnea, wife to Scott and mother to Jaron, lives in Massachusetts.