By Vera Mielke
I met her on one of my very first shifts on the ward. She was a translator serving with Mercy Ships. Her name was Judy Ben. From the moment we met there was a connection between us. As I sit here in my cabin in reflection, I remember that day as if it were yesterday.
"What is your name?" She asked as she introduced herself to me and warmly welcomed me to the ward. "Vera," I replied, smiling as she exclaimed enthusiastically, "Vera! What a fine name! What a beautiful name!" But what she said next startled me. "I have a little girl who is five years old who I have not yet named. I will give her your name!" The decision was made just like that. I have to admit that I questioned in my mind what kind of a mother would refrain from naming her child for five years.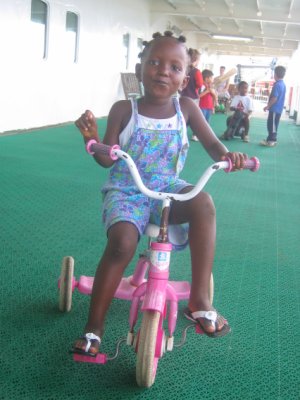 I have learned however, that in Africa names are not always given right away to children. Naming a child is a very personal thing and women don't want to get attached to their babies right away, because many of them do not live past their first few years of life. This may have been the reason for not naming her little girl. But whatever the case, today she finally had a name. My name. I was to become her god-mother, her adoptive mother.
The following months we worked together, caring for the patients and often I relied on Judy to translate the Liberian English into my English! We continued to grow in our relationship and she would share stories about my daughter. Every time I saw here I asked how "my little girl" was doing. One day she said, "Your daughter would like to meet you!" So in October, I extended an invitation for Judy and her family to come to the ship for a tour.
I was enchanted when I first met Vera Ben, she was the cutest little girl with the most beautiful smile. Although somewhat shy at first, it didn't take her long to want to hold my hand and sit on my lap. "She's been looking forward to meeting you!" Judy said of her daughter as we sat on Deck 7 and watched her romp and play with the toys.
After a tour of the ship we shared a meal together in the cafeteria and enjoyed a walk on the dock before they said their farewells. I smiled and waved as they walked away. That was the last time I saw Vera.
On Sunday, December 2nd, as we sailed North up the coast of West Africa, I was walking along the deck of the Africa Mercy when a friend pulled me to the side saying, "Vera, I have a message for you from Judy." I looked at her questioningly. I had not seen Judy since the 21st of November when we had our farewell party and to my knowledge she had not returned to the ship due to heightened ship security prior to departure from Liberia. I wondered how she had been in contact with Judy. "I think I may tell you later, it's not good news," she said sadly. My heart jumped into my throat and I begged her weakly to tell me. She sighed and began to speak: "Judy's little girl, the one that you adopted, was killed last week."
Stunned, I looked at her and could find no words, no response, my mind was blank and numb. For a moment, the world stood still. I looked out over the vast expanse of ocean, the rippling, white-capped waves breaking against the ship as it glided along, the sun beaming down from a clear, blue sky. Everything was just the same as it had been just one minute ago, but somehow it all looked so very different. I turned back to my friend, "how, what happened?" I asked softly, holding my composure carefully.
"She was on her way home from school and was hit by a car," she responded. My heart sank, my mind screamed, my spirit cried out to God asking Him a thousand questions, "Why, why why?! Why should this woman have to deal with yet another tragedy? Wasn't it enough that she was widowed from the war and lost her sister to Typhoid fever just last month! Why is there so much suffering in one person's life? How do I respond? What am I supposed to do?"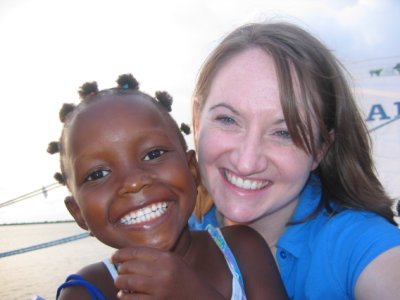 My friend broke into my thoughts, "Judy said that you had adopted her daughter, she wanted me to make sure and let you know what happened." I found out later that the funeral had been held the Friday before we sailed, because Judy did not have access to the ship, she was unable to tell me the news. Somehow my friend had found out and had been able to attend Vera's funeral.
As the ship sailed on, my heart cried out for Liberia, for all of the hurting people in that war-torn country, and my mind began to fill with hopeless thoughts. Now I knew, now I understood why Judy had waited so long to name her little girl. "Oh God! We try so hard, we give so much! But still it isn't enough! Suffering continues in this world! What good am I even doing here? What difference can I make?"
Then I heard a little voice say, "Vera, she died with a name. She had a name."
---
Vera

is a registered nurse who just completed a year of serving in Africa with Mercy Ships International. She is recently married and lives in Harrisburg, PA.