By Jody Matheson
It seems there is a bit of irony that my previous review was a book based on the popular television series LOST. While I never felt that I was being seduced, it took a very short time to realize I was lost in a worldliness that went beyond my tunnel vision.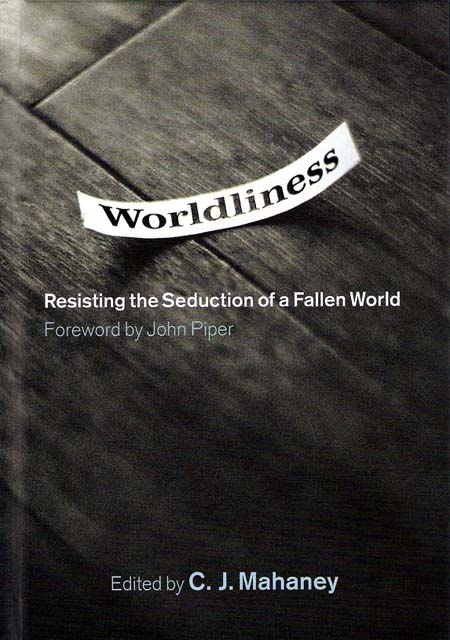 Worldliness: Resisting the Seduction of a Fallen World took the blinders off my selfishly protected eyes and showed me not what I would be missing from the World, but rather what I am missing in my relationship with God.
Starting with a foreword by John Piper, the tone of the book is set. "Read this book sympathetically… These guys aren't stupid. In fact, they are smart. So read on, and see what the context demands. Be smart with them."
Speaking in plain language, peppered with scriptural truths, C.J. Mahaney begins the process of examination with his own text regarding our metaphorical "Jefferson Bible", taking out the portions of the Bible that don't fit or agree with our lives.
Using a powerful example of Dumas as noted in Second Timothy, Mahaney brings us to an understanding of the seriousness of the issue when he says, "Worldliness is so serious because Christ is so glorious."
With an exhortation to meditate on the cross, the book moves into practical applications through four chapters: God, My Heart and Media; God, My Heart and Music; God, My Heart and Stuff; God, My Heart and Clothes. Each chapter brings a very real world understanding to the topic. At no point did it feel overhanded, but at the same time the writers stay grounded in a modern world, dealing with modern trials and modern temptations.
The book carries forward a number of resources to deal with these issues. Most importantly, the book wraps up with a meaningful and personal message titled "How to Love the World." After being issued warnings and learning much about what not to do, the final word, written by Jeff Purswell, brings about a hope for the World around us.
"If previous chapters have encouraged us not to love the world, this final chapter will examine how we should love it, exploring ways Christians can live faithfully in this present age. What is our relationship to be with the world? How are we to relate to it? How can we imitate God's love for the world?"
Some probing questions, some soul-searching essays and some wonderful resources make Worldliness: Resisting the Seduction of a Fallen World a must read. You'll find a new depth to the relationship you have with a loving God, while living a Christian life in a less than perfect world.

About the author: C. J. Mahaney is president of Sovereign Grace ministries, serving on the Council of the Alliance of Confessing Evangelicals and on the boards of the Council on Biblical Manhood and Womanhood and the Christian Counseling and Educational Foundation. Mahaney is the editor of Sex, Romance, and the Glory of God and a coauthor of Preaching the Cross.

Other contributors include Craig Cabaniss, Dave Harvey, Bob Kauflin and Jeff Purswell.
Rating: 4/5

---
Jody

needs to end his seduction by the World. "It's not the World. It's me." A father of two from Canada, Jody works as a production coordinator for a local website, eh?