By Julia LoVan
When I received my copy of Rebecca Barnes-Davies' 50 Ways to Help Save the Earth, I was first impressed by the cover art and post consumer recycled, chlorine free pages, and then more impressed by the comprehensive information throughout.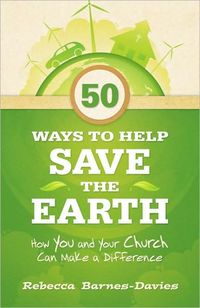 I've read a lot on the environment, social justice, and how to be green- even researching myself how to buy slave-free and eco-friendly materials for my fashion company, but never before have I read a book that combined how-to's, personal eco stories, and substantial credible information with a genuine faith core.
After watching documentaries, reading numerous articles, seeing the despairing effects of capitalism on my marginalized friends in Los Angeles, and discussing and mourning with friends about the plight of majority-world persons, it has become a part of my daily life to be as resourceful as I can.
This could be for conscience's sake, or for the sake of saving the environment, but the drive of what I do is from the call of the Lord to love Him with everything within us, and love our neighbors. This is definitely at the heart of Barnes-Davies book, especially since every other page has an applicable (as well as uplifting and core-cutting) Scripture verse in the "Faith Matters" section.
Through movies like I Heart Huckabees, Butterfly Effect, and Traffic, we see examples of how our lives are interconnected, eradicating the selfish idea that a man can be an island. My friend Hank of Mosaic church quoted a top CEO he overheard as saying, "You're breathing someone else's air." This belief of connectedness permeates Barnes-Davies book, as the tips and stories she curates is not merely intended to save the reader some cash, but to, as Ghandi said, "Live simply so that others can simply live."
Simple living, in this book, is fleshed out through seven topics/chapters (energy, food and agriculture, transportation, water, people, other species, and wilderness and land, followed by a call to celebrate jubilee) that are broken down into fifty tips that include facts, Scripture, How-To's, and "Walking the Talk" which contain real-life stories of people of faith creatively putting green into practice.
Barnes-Davies' book is a breath of fresh air from the materialistic, consumer approach to being ecological. Working in the fashion industry I flip through a lot of magazines- "research" if you will- that are rife with new designers carrying eco lines which definitely has value, but somehow falls short of a holistic approach to freedom. If being ecological is fashionable now, Shane Claiborne and his self-sewn tunic was way ahead of the trends.
50 Ways to Help Save the Earth makes me painfully aware of how harmful my/America's habits are, but instead of leaving us with a feeling of despair and helplessness, Barnes-Davies leaves us with hope:
"We are not, buy our own human prerogative, going to be able to save the world… As people of faith, we trust that God is already at work in the world, constantly moving the world toward good. Because God is omnipresent and active, we participate in the call to curb climate change knowing that we are not alone. We participate because it is a way to praise God, to honor the creation God made, and to become who we are called to be."
---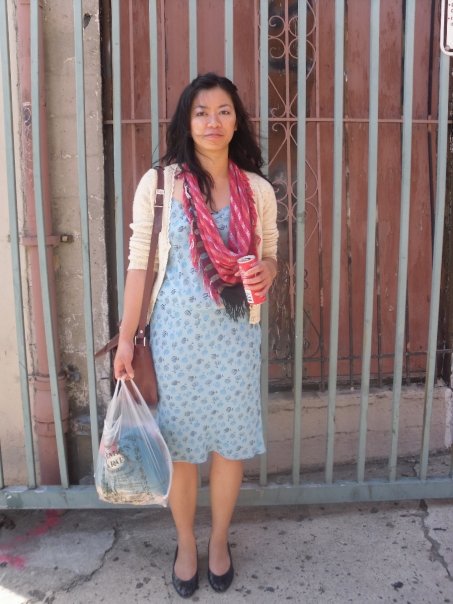 Julia's favorite things are Jesus, chocolate chip cookies, the beach, chubby kids, and friends and family. She also is surprisingly loud, friendly, and athletic. In Los Angeles she works with marginalized families and is a fashion designer. Check out her online store at www.julialovandresses.etsy.com and her creative justice fashion blog at www.julialovan.blogspot.com.