By Quoleshna Elbert
It seemed useful to introduce a rating system, so this is mine: The greatness of a CD is determined by how many of its songs will be included in the regular rotation of my own Media Player's Library.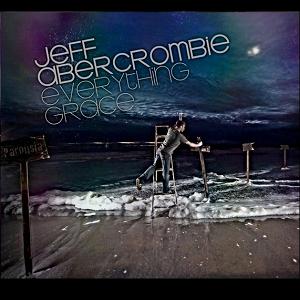 I also like to let you know how many, if any, songs are going be added to my "Fav's" playlist. My "Fav's" playlist exhibits my personal preferences for songs that feel pretty epic to me, spark a new way of thinking for me or spear my heart to the point that I want to learn all the lyrics and sing them at the top of my lungs while doing dishes or mock interpretive dance…and, yes, sometimes both.
Songs added to my regular rotation = .60 (over half the CD… That's good.)
Songs added to my "favs" playlist = 0. That's normal.
Five songs make up Jeff Abercrombie's "Everything Grace" EP, from which I'll be introducing the following into the regular Media Player rotation:
The title track "Everything Grace,"
"Journey Into You""Overflow"
The thing about "Grace"
Imagine a slow stroll along the beach at night; the tide has made the sand damp and cold and loose enough to squish between your toes. In the background the ocean is a steady roar. The air is clean and fresh. That's "Everything Grace;" a composition of simple harmonies, lullaby-like smooth melodies and straight-forward lyrics. "California-coolness-ness," is what I call it. This CD offers a good collection of works-nothing ground-breaking but, still, a very solid offering with no dud tracks.
Here are the ingredients that satisfy:
Jeff Abercrombie's raspy voice and simple delivery are both appealing and approachable (anyone else reminded of Bono from U2, especially on the title track?)
Who can resist a strong guitar-led melody? Not me.
Overall, a mellow-groove kind of tempo and that suits me just fine. It's that kind of beat to which one can ponder life without falling completely asleep or finding themselves compelled to head bang (though you may belt out a few-purposely off-key-choruses as you accompany "Everything Grace" on its musical journey.)
What spices could be added to make this dish tastier:
I look forward to more work from Mr. Abercrombie. I'd like to see a bit more depth to the instrumentals and melodies and less reliance on the chorus to fill out songs. The tracks seems to skim the surface of where they want to go leaving me with the sense that there's something weightier and meatier waiting in the wings. As a regular ol' listener (which is what I am) I'm craving a fuller picture, a bit more exploration in terms of lyrics and musical composition; creating an adventure as true, distinct and personal as the life inspiring the music.
I think more exploration and daring will also help make the songs feel more distinct from one another in future projects. For instance, the delayed intro of thumping' helped to distinguish "Rest" from its sibling tracks.
Notes:
I'll be adding the other two songs "Rest" and "You Are Love" to my general library; because "Everything Grace" is an overall good CD and, I foresee there being a friend or two down the road who will be blessed by those two songs.
The title track may be my favorite…found myself humming the melody most of the day. I keep wanting to call this track "Rain Down," because that's the part that sticks in my mind. Great prayer song.
My favorite verse: "You enter like an offshore wind, how you love to show compassion and wander in." I have no idea what that means, but it's a beautiful short phrase filled with great imagery. And it beckons you with the hope of gaining new perspective. Me like.
A nice surprise was the last song, "Overflow". Its intro with the stomping and playful laughter was immediately engaging because I had no clue what to expect afterwards (especially with the preceding songs being relaxed in comparison). The beat is only a bit more up-tempo, leaving that nice mellow-groove intact. But, I can definitely see myself dancing in the living room to this selection. I really enjoyed the psychedelic break in the middle of the song and the chanting as the song closed out. It was an unexpected sound and a fun and very thoughtful way to end one of many journeys with "Everything Grace."
Take a few trips on this musical journey by visiting Jeff Abercrombie's website or Myspace page.
---
Writing lyrics, consuming lots of sugary tea and dancing–these are a few of Quoleshna's favorite things. She's passionate about full-throttle, godly exploration of God-given talents. Currently, she's working on handcrafted, comfy, fun and elegant fashion accessories. Visit http://connect.tangle.com/quoleshnafor extended vids or if you feel led, contact her: [email protected].