By Quoleshna Elbert
I rarely add a whole CD to my Media Player and even more rarely add songs to my Fav's list. So,for me, the greatness of a CD is determined by the percentage of its songs that I'd include in my Media Player's regular rotation as well as how many songs I'd add to my FAVS playlist. My FAVS playlist is made up of songs that feel pretty epic to me, spark a new way of thinking for me or spear my heart to the point that I want to learn all the lyrics and sing them at the top of my lungs while doing dishes or mock interpretive dance…and, yes, sometimes both.
For Nelson's "Mama Boy"
Songs added to my regular rotation = 0.17/1.00 = 17%
Songs added to my FAV's' playlist = 0.
Twelve songs make up Nelson's "Mama's Boy," from which I'll be introducing the following into the regular Media Player rotation:

The thing about "Mama's Boy":
"I've been teaching myself to play the acoustic guitar for a few years now and really didn't feel that I was getting any better. So to motivate myself, my new year's resolution for 2009, was to begin writing and recording songs. I thought learning to play a good song was hard, but I quickly learned that writing a good song was even harder." (Nelson)


The stark honesty of this statement, printed on "Mama's Boy" CD insert, is indicative of the music offered within. The tracks showcase stirring instrumental sections composed by someone new to experimenting with both lyrics and vocal delivery. And, he seems to be enjoying himself while finding the style(s) that best define him.
Here are the ingredients that satisfy:
Nelson has a great ear for interweaving instruments and for melody! The intro's and interludes are just rich, fertile ground. Yum.
What spices could be added to make this dish tastier:
Nelson's rough vocals would benefit from (guided?) practice.
The lyrics rely on too many catch-phrases and unimaginative wording.
Nelson is just starting out, so within the CD you'll encounter A LOT of styles, from blues, to Spanish guitar to rock. I love variety, but it's obvious that this CD is an opportunity to explore as many channels as possible. Fun for the musician but hard for the listener; there is no distinct style to help the transition from one song into another make sense. This makes the CD feel confused and not cohesive.
Nelson's gravelly voice with all its flat pitches is kind of difficult to listen to. However, in songs like "Next Time," and "Ladida" there seemed to be a good fit with his straight-pitched, monotone delivery style. Found myself thinking of Van Morrison's style of singing. Especially in "Ladida". Actually, I found that when playing "Next Time," "Ladida," and "Optimistic" back-to-back, there was a real theme developing, there. A good one, in my opinion.
I like the honesty of Nelson's messages. Also, I have to give mad props to an artist who committed to writing and recording music for the first time…AND produced a CD in four months! That's an awesome achievement. But, I think that explains why a lot of phrases used were things we've heard before. So, I challenge Nelson to use the time he now has to be more original with his lyrics.
"Mama's Boy" showcases Nelson's ear for complicated instrumental sections and just plain-ol' catchy melody. I'm excited for Nelson because this very rough debut hints at some great things to come if he plays up his strengths and strengthens his weaknesses. I encourage Nelson's exploration and merging of different styles; but if serious about continuing with writing songs for his own voice, guided lessons may help stretch and define his vocal range and get him started on the path to creating more harmonious records.
Notes:
1. The track "Where I Belong" has a wonderful intro. Gorgeous interplay of guitars in the middle of the song.
2. "Ladida." Another great intro! Like a lullaby. This is one of the few songs where I felt Nelson's voice and delivery were perfect for the song. His voice should be too heavy for such a light backdrop yet the song feels oddly balanced. Found myself humming my own accompaniment with it near the end. Don't know why the singer/songwriter Van Morrison comes to mind.
3. "Optimistic." Fully instrumental. Fun. Subtle intro that jumps out at you, unexpectedly…nice idea, but could be executed with better timing. Nice play of guitars, though the synchronization seems to be a bit off at times. But still a happy dance, bobbing up-and-down beat that motivates you to move.
4. "Headed Home Now." That is a very nice piano/strings melody in the middle! I was jamming just on that, alone. Touching lyrics. Catchy chorus.
5. "My Ole Guitar." Best song in terms of putting it all together: a fun rhythm that's easy to follow, catchy lyrics and good storytelling/imagery. Light-hearted song but, in my opinion, doesn't have as much depth/potential as the others I mentioned.
If you would like to compare my comments to the real thing, check out Nelson's myspace website here.

---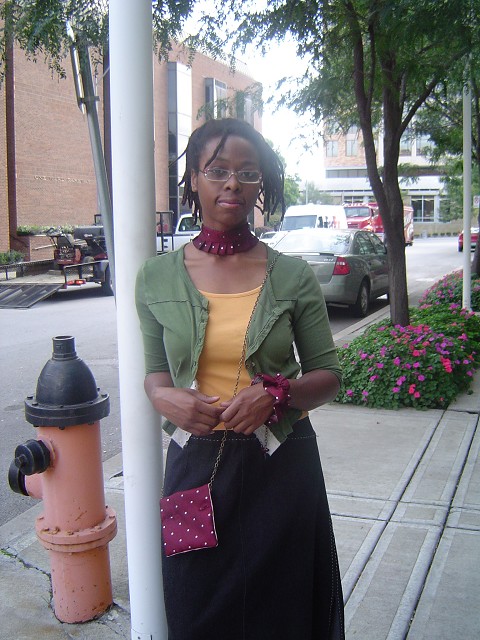 Writing lyrics, consuming lots of sugary tea and dancing — these are a few of Quoleshna's favorite things. She's passionate about full-throttle, godly exploration of God-given talents. Currently, she's working on handcrafted, comfy, fun and elegant fashion accessories. Visit http://connect.tangle.com/quoleshna for extended vids or if you feel led, contact her: [email protected].