By Eric Paul
I was perusing one day through a number of blogs during one of my theology classes. I tend to do this regularly throughout class, interested only in the topic. Once in a while, I will see a topic that catches my eye, and I will spend the next five minutes zoning out the controversies revolving around Arius and Athanasius and focusing in on some interesting event or insight.
Two days ago, I read one such blog that I found to be extremely relevant to our modern ears. The title proclaimed: "In Money We Trust."
The irony is unavoidable. We look at any piece of currency and we notice it immediately: In God we Trust.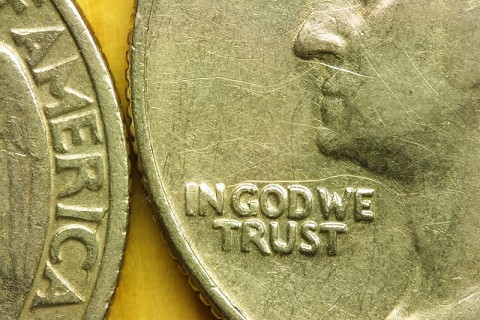 Money is how we survive. Without money we are relegated as social outcasts. Money is our provision, our lifeline, and our comfort. It is what drives us to get up in the morning and depresses us when we find it to be lacking. Each day it becomes more and more clear that though the dollar is the currency of our nation, greed is the currency of our hearts.
The current collapse on Wall Street only helps to shed light on a larger issue. Many are saying that the sins of the minority (the CEOs of these gargantuan corporations) are punishing the majority. And in some cases this is absolutely true. Their continual quest for more power has made economic life increasingly strenuous on the rest of us. Millions have lost their retirement, savings, and college education funds.
And yet only a few are asking the real questions. Why are we willing to bail out these national corporations and not bail out the homeowners who have foreclosed on their mortgage? Why are we willing to save the companies that drove our economic collapse while continuing to avoid the families straining to put food on the table (an estimated 90 million)?
It seems to me that no matter what happens with the big corporations or the small homeowners, the original formula still remains. The larger issue at hand is our continual practice of seeking more; our greed and reliance upon the system has never been so evident. Jim Wallis writes in his book The Great Awakening that we can continue to live the way we have been for the past century but it will be to no avail. What we need is a revolution of values.
Greed is replaced by what Shane Claiborne has termed a theology of enough. Neighbor looks after neighbor. Where we see a need, it is met. If someone is hungry, we feed them. If they are naked, we clothe them. We give not to receive but to love. We teach sound economic statutes of debt removal, echoing the voices of the prophets in the year of jubilee. We cannot serve both money and God. We live in a country where we trust money, and not God. I think this is the greatest sin of all.
If you liked this article, check out: A Widow's Mite
---

Eric is currently living in Nashville, TN, with his beautiful wife Joy. After a year off from school, he is excited about once again joining the academic community while pursuing a Masters in Divinity. You can find some of his thoughts at www.pruningspears.blogspot.com.