By Ben Girdler
Do you ever feel like Christianity today may not be all it was intended to be? That we have somehow messed up our part of the relationship? In light of these thoughts, I recently sat down with author Jonathan Almanzar to discuss his new book, An Open Apology, co-authored by Aaron Havens. He gave us some insight on these types of struggles and a preview of what to look for in the upcoming book.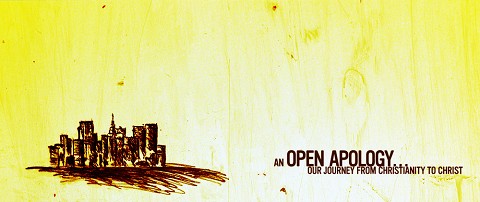 What is An Open Apology?
An Open Apology is 17 apologies for where we have robbed Christ of His glory, or inflicted our Christian Culture, or tried to Westernize the world. An Open Apology is not only our personal apologies, but apologies Christians at large can relate to. Apologies that bring hope. Apologies that bring clarity. Apologies that bring relief. Apologies that bring change.

That sounds like something we could all use a dose of. Can you expand on that?
An Open Apology is our attempt to articulate truths, frustrations, and failures of generations of believers and start them on their journey from Christianity to Christ. Basically its a lament of 2 guys who grew up in American church, have worked in and with American church, and have recaptured the simple beauty of Christ (or at least are trying to) amidst the polluted rebellion we call Christianity.
So to whom is this book geared toward?
People like us. People in their 20s-50s who have been in and around church for quite some time and are frustrated (but they may never admit it). People who are discontent, knowing there should be something more but perhaps resigned to accepting the way it is.
Its like a camping trip, when you wake the next morning and the coals are mostly black, but you see a bit of gray, a bit of smoke. You bend over and give a prayerful blow on the coals. With a crackle and a tinge of red, with ashes scattered about you blow again and see the almost dead flames leap to life. That is An Open Apology for the soul of the believer.

How does the structure of An Open Apology help us to make our own apologies?
Each chapter of An Open Apology stands alone, without building on the preceding work. This writing style affords readers the flexibility of reading the book from cover-to-cover or jumping between chapters as they choose. However, we see this book best read slowly. One chapter a day. With its high application it would afford the reader time to think and live out truths discovered. The chapters are the right size for a fifteen to twenty minute quiet time, and end with a prayer to Christ.
What is the take away after we read An Open Apology?
What we would want readers to take away is that your relationship with Christ is alive and vibrant every moment of the day. And it is about that relationship, with Christ, that supersedes all culture and traditions and safety of a religion. Secondly, that though we fail, Christ fulfills.
An Open Apology should be published and available for purchase in early 2009.
About the authors

Currently Jonathan Almanzar serves as Director of Latin American Missions for Adventures in Missions, one of the largest short-term missions agencies in the world. Through this position he has direct, personal contact with over 400 pastors from the U.S. from all denominations and hundreds more throughout Latin America. This opportunity allows him to remain connected to the concerns and fears across a wide range of Christian circles.
Aaron Havens serves in SWITCH as Director of SWITCHgroups and Video Communicator for LifeChurch.tv, Americas largest multi-site satellite church. LifeChurch.tv has 23,000 partners, thousands of network partners, and was voted the most innovative church 2007 and 2008. LifeChurch.tv currently has 12 campuses in 6 states and an internet campus which is live worldwide. Because of this, Aaron has a unique perspective of where the mainstream church is headed in the near future.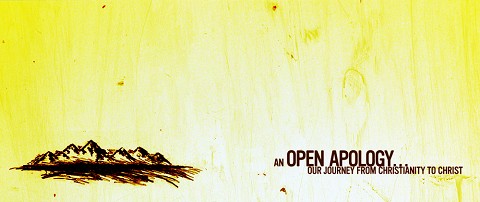 For more on An Open Apology, visit Jonathan and Aaron's blog at www.openapologies.org.
If you liked this article, check out: Chasing Toys: What We Really Value
---

Ben
lives in Tucson, AZ studying sociology and writing. He even works full time when it doesnt interfere with writing the stories God puts on his heart to share with the world.