By Amanda Petersen
NUMBER OF SLAVES WORLDWIDE: 27 MILLION
PERCENTAGE OF SLAVES WHO ARE CHILDREN: 50 PERCENT
NUMBER OF PEOPLE TRAFFICKED EACH YEAR: 1 MILLION
NUMBER OF PEOPLE TRAFFICKED THROUGH THE USA EACH YEAR: 20 THOUSAND
NUMBER OF PEOPLE ENSLAVED IN THE USA: 200 THOUSAND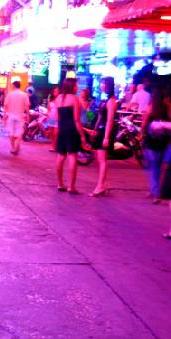 The number of slaves in Thailand is unknown. Many girls come from the hill-tribe villages into the cities in search of a better life, only to find themselves indebted to a pimp or owner of a bar that caters to sex tourists. Some are sold by their families, while others are kidnapped and taken into the underground sex industry. Many work as dancers in the famous go-go bars and exotic sex shows, attracting throngs of Caucasian tourists. Young girls are kept in dimly lit rooms in the back of massage parlors, only to have their virginity sold to the highest bidder. From there, they are sold over and over again, dozens of times each day, often times for less than two dollars. However they get there and whatever exploitation is forced upon them once they arrive, one fact remains the same something must be done.
Thailand is not a distant country. Human trafficking occurs in every country across this globe, including the United States and Canada. After many years of silence, the crisis of human trafficking has finally been showing its face in the public spotlight. While celebrities and news personalities are busy latching themselves to the cause, many are beginning to wonder what role they can play in what is arguably the largest humanitarian issue of our time, ranking alongside the HIV/AIDS crisis in Africa.
As my mind frantically searches for answers in the midst of pain, I have resolved with myself that I will not remain captive to the feelings of helplessness. The truth is no longer hidden for me, and as I stare down the lens of my future, I dare not risk having to explain to my child that I chose not to help. My mind wanders to thoughts of the Holocaust. Many didnt, and still dont believe that it actually occurred. Will I be so foolish to brush human trafficking under the rug?
More so than this, my heart breaks each time I hear the story of a girl who was trafficked. She is my responsibility. Do I claim to love Christ? Do I love her? Do I truly believe that we are all connected to one another and that her pain is my pain? I cant go on believing otherwise. I love her, and in the same way that I would do everything in my power to guard my biological sisters from pain, I desire to guard her.
So now I prepare to pack a few bags and take a plane over to Bangkok. My small group and I have tickets to board an airplane and a place to stay once we get there a rehabilitation home for girls who have been rescued from the sex trade. During our days we will spend time loving these girls, assisting with their job training, teaching English, combing their hair, showing them that they are human and so, so loved. Throughout our nights we will enter into one of the most popular sex tourist bars in all of Thailand, to learn the names of the girls that the rest of the world only sees as glittered and scantily clad entertainment. We will look into their eyes and do our best to mix our broken Thai with their broken English, and invite them to come to a place where they can escape abuse. We will be aware that they have no reason to trust us when the rest of their environment is stealing their innocence, but we pray that the grace, peace, and light of Christ will overshadow that suffering. We go knowing that we face something much bigger than ourselves, and dont have all the answers, but can no longer go on with our sisters being raped.
---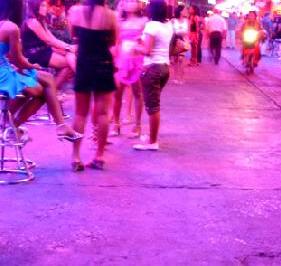 I know that these girls have stories to tell. They have eyes that see a world many of us will never experience. Despite their circumstances, they still laugh and play in the back rooms as girls their age would. I wonder if their eyes see more of the pain, or more of the beauty in life the few small pieces of beauty that they have to cling to the smile of their co-worker who is living a similar life, the colors at the market.
I am going to Thailand equipped with one of my favorite travel partners, a slightly beat-up SLR camera. My hope is to take more supplies with me for these girls to use so that the world can see what their eyes see. If you are looking for a way to participate in the rehabilitation of our sisters in Thailand, please consider giving:
-a new or used point-and-shoot camera
-a new or used digital camera
-disposable camera
-black & white or color film
I can only tell part of the stories for these girls. I want to give them the opportunity to tell the rest. In the upcoming months, you will hear their stories and see their pictures, from their own eyes.
Will the world listen and see?
If you are interested in donating photography supplies to be used by the girls in Thailand, please email Amanda at amandapeterson(at)adventures(dot)org. She will respond with proper mailing information.
---
Amanda Petersen, of Portland, OR, is an editor for Wrecked, with a passion for photography, writing, reading, and love. She is excited about her on-going nomadic status and seeing how her next bill will get paid.
Statistics provided by the Not For Sale Campaign.
Form more information on human trafficking, please visit:
International Justice Mission
Justice for Children International
HumanTrafficking.org