By Christine Young
Continued from Be Careful What You Desire
The first day upon entering the orphanage, my heart was racing. I was so excited to see what God had in store for our team. When I walked into the room of the orphanage I heard that still small voice saying I do not want you to adopt just one, I want you to adopt them all. What! What did this mean… My son and I had the most incredible week playing with the children, developing relationships and falling in love with them all. Before the week was over, we were planning our trip back.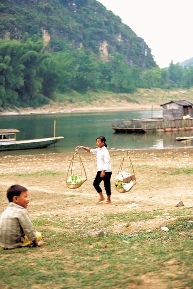 When we came home and shared our experiences with our family they were so excited. This orphanage had become part of our family. We knew God wanted us to adopt this orphanage. Again, through my quiet time, God shared that He wanted us to share this adoption with our church. I presented the idea to our pastor and before I could finish he asked, So what are we going to call this ministry? Mountainbrook's Orphan Response was born.
It has been a year since we started all of this and God has used this little ministry to change lives. The focus of our family and our church has become, what can we do to help the kids in Siping. The way we spend our money, time and conversations all involve our new extended family.
Doors have been opened that you could never dream of. You would think that language would be a barrier but God has triumphed. We have found ways to communicate with letters, interpreters, and pictures. Love knows no boundaries.
The goal of the ministry is to develop on going relationships with the children and workers of the Siping orphanage. We plan to send a team at least once a year. Many of the children will not be available for adoption and will remain in the orphanage. We hope to become the Aunts, Uncles, cousins who visit each year.
The most important aspect of the ministry is prayer. We have a prayer team that is committed to pray for the children, workers, and the orphanage regularly. We have been blessed with people in Siping who give us updates and send pictures. It is awesome!
What the ministry has accomplished in the past year is: we sent a team of 14 people this past summer to Siping. We developed friendships with the children and workers. The team experienced Jesus face to face when meeting and playing with the children. We have been able to purchase items needed by the orphanage,ie: kitchen cabinets, beds, a playground. We have gifted them with linens, medical supplies, needed surgeries. Most of all we have been able to share the love of Jesus with the people of Siping.
We are living out James 1:27 Pure religion is caring for orphans in their distress…. The team has met Jesus in the faces of these precious children.
This all started with the desire God gave me for a daughter. Take delight in the Lord, and he will give you your heart's desires. Psalm 37:4 God has taken that desire and stretched it farther than I could have ever imagined. He has blessed me with a wonderful family and a ministry that reaches half way across the world. I invite you to join us on our journey. I have no idea where God is going to take this ministry next. What I do know is, that it is right where I want to be. Being His hands and feet, and being a part of what God is doing.

If you liked this article, check out: Searching for Donzula
---

Christine is a wife, mother, ICU nurse and ministry leader. She has a heart for orphans and wants to share the hope of Jesus with them. For more information, check out:

Blog: http://orphanresponse.blogspot.com
Video: http://video.google.com/videoplay?docid=4827012540642895858&hl=en