By Christine Young
Who would have thought that God would use my desire to have a little girl to change hearts and lives? I am married to a wonderful man and we have two great boys. We thought our family was complete. Then God gave me the desire to have a little girl.
My husband was pretty happy with the way our life was and did not really want another child, but that did not stop this burning desire. I had had two problem pregnancies and knew I did not want to be pregnant again. The idea of adoption kept coming up, but when I spoke to my husband about it, he was not interested.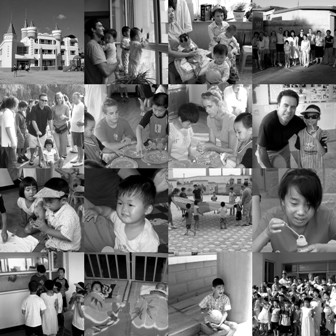 Through many prayer requests for God to soften my husband's heart, it happened. God used boys! They were not aware of my desire for a girl or any of the conversations that my husband and I had about adoption.
Then one day, out of the blue, my oldest son asked, Mom, have you ever thought about adopting a little girl? I was floored! The next thing I knew the boys called a family meeting, and my husband soon realized that he was outnumbered. We were having a girl!
18 months later, God had walked us through our adoption process, meeting us every step of the way. Our family was headed to China. Our daughter was hand-picked by God to change our lives in the most amazing way. We were able to spend some time in her orphanage.
The pictures of that visit are embedded in my memory. The facility was nice enough, but what really got to me was the visible number of children that would not be tucked in at night by a mother and father. My daughter was coming home to a family, while so many where left with out a family. That is what God wanted our family to see.
Upon returning home, I knew God had much more in store for us. This was not just about having a daughter and completing our family; he had something up his sleeve. I could not stop thinking about the children who were still in the orphanage; what about them? Through much prayer, God impressed upon me that He wanted us to start an orphan ministry. What does that mean? I kept asking. Again, God took me by the hand and walked me through this.
In the summer of 2006, God urged me to go on a mission trip to China. My husband stayed behind to care for our daughter and middle son, while my oldest son and I headed off again to China to work in an orphanage. God directed us to a small orphanage in Siping, China. They have approximately 40 children, mostly with special needs. I felt that God was going to show me something on this trip. I thought that He was going to show me that we should adopt again. Well, I was partially right.

To be continued. If you liked this article, check out: Shining Stars
---

Christine is a wife, mother, ICU nurse and ministry leader. She has a heart for orphans and wants to share the hope of Jesus with them.