By Cameron Cary
From Cambodia.
Though in many ways still underdeveloped, Phnom Penh is a bustling city with many opportunities to experience the history, sight-see, shop, and enjoy the culture. Cars, tuk tuks, and motos alike crowd the dirty streets, with no sense of traffic direction and a constant honking of horns. On a day off before traveling to the villages to begin ministry, a few girls and I decided to pick up a few items at The Russian Market, one of Phnom Penh's famous tourist spots, known for its traditional Cambodian souvenirs and incredibly cheap prices.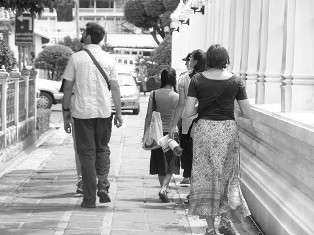 As we strolled along the promenade at what we thought was the Russian Market (though we were mistakenly taken to the Central Market instead), I was suddenly struck by the fact that I am a foreigner, and therefore I am perceived as "rich." Drivers, vendors, and beggars constantly compete for my attention (and my wallet).
In such a personable culture where everyone is friendly and open to conversation, I must force myself to revert to independent, unfriendly New York-shopper-mode so I can actually make my way through the market.
We stopped at a stand selling t-shirts to look for "Same Same" shirts (a common phrase in Southeast Asia), and while we waited for the vendor to bring out the shirt in more colors and sizes, we were approached by several beggars, most of them physically handicapped in some way, all saying "Madam, Madam!" followed by something in French (most older Cambodians revert to French when speaking to Westerners). As I was standing at the back of the group buying shirts, I was approached by a beggar woman holding her baby with one arm, and sticking out her palm face up with the other. I couldn't understand her words, but the expectancy in her eyes struck me. I looked down to the baby, sucking at her breast, who also looked into my eyes and stuck out his hand.
Suddenly, I had a decision to make. I could be cynical at the fact that because I am a Westerner, it is expected that I get out my wallet. I could be angry at the fact that this woman is trying to toy with my emotions and manipulate me into giving her money just because she has a baby on her breast. I could also be angry that the child, not yet one year old, has already been taught the lifestyle of begging and how to influence my decision.
OrI could have compassion. I could give her money, food, or time. I could bless her by speaking life into her, pray for her, and show her the love of Jesus.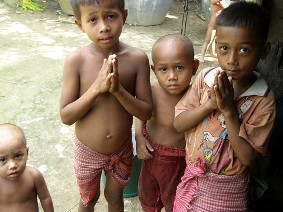 But I froze. I moved away from the woman and tried to hide amongst the other girls looking at all the t-shirts, as though the plethora of colors and designs were far more important. I resolved long ago to never give money to beggars, that food or conversation would be my joy to give. But this time, I had no food and could not speak the language. I sat there and prayed continuously, "Father, help her. I don't know how to do this. I don't know what I'm doing. Show me, Lord, how I can love her."
Beggars in Cambodia do not leave you alone when you say no or try to ignore them. They will continue to stand right behind you, repeating the same phrases and holding out their hands until you give in or move away from them. By focusing my attention on t-shirts and being a consumer-driven tourist, how am I possibly showing this woman, or the world, the love of Christ? Am I not implying that a $2 t-shirt is worth more to me than her very life?
Several months ago, I asked the Lord to give me a heart of compassion for His people. To be moved in the very way He would move to meet their needs and let them know that they are loved, their deepest need. And this is how God answers that prayer: by bringing me into circumstances where I must chose whether or not to give my money, give my time, give my heart.
"Father, help her. I don't know how to do this. I don't know what I'm doing. Show me, Lord, how I can love her."
Beggar at the feast!
Master of the dance!
Life is easy pickings
If you grab your chance.
Everywhere you go
Law-abiding folk
Doing what is decent
But they're mostly broke!
Singing to the Lord on Sundays
Praying for the gifts He'll send.
---

Cameron is from North Carolina: born in the Raleigh area and grew up in Charlotte. She went to college in the mountains, and then moved to New York City, where she worked for Starbucks for two years and did a lot of production/stage management work in theatre. She is currently in Cambodia on a mission trip.