By Onleilove Alston
The Spirit of the Sovereign LORD is on me, because the LORD has anointed me to preach good news to the poor. He has sent me to bind up the brokenhearted, to proclaim freedom for the captives and release from darkness for the prisoners, to proclaim the year of the Lord's favor 
 and the day of vengeance of our God, to comfort all who mourn, and provide for those who grieve in Zion- to bestow on them a crown of beauty instead of ashes, the oil of gladness instead of mourning, and a garment of praise instead of a spirit of despair.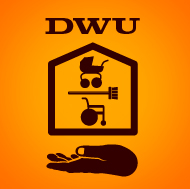 THEY will be called oaks of righteousness, a planting of the LORD for the display of his splendor. THEY will rebuild the ancient ruins and restore the places long devastated; THEY will renew the ruined cities that have been devastated for generations. -Isaiah 61:1-4
"I want to be in tune with my maker."
"I pray for the organization to get the (Domestic Workers) Bill of Rights passed".
"Without God we can't do anything".
"I put fliers in the churches, I speak to the pastors".
-Marilyn Marshall and Joyce Gill-Campbell Leaders in Domestic Workers United (DWU)
"We have a dream that one day, all work
will be valued equally". –Mission of Domestic Workers United

During the spring of 2006 I started to closely read Isaiah 61 and began to gain spiritual encouragement from meditating on God's concern for the poor and oppressed. I began to study this scripture whenever I had the chance. In 2007 I started to work with New York Faith & Justice after meeting founders: Lisa Sharon Harper, Anna Lee and Peter Heltzel at Pentecost 2007. In the fall of 2007 New York Faith & Justice did an in-depth Bible Study on Isaiah 61 and from the study I learned that this passage declares the poor "the oaks of righteousness", and "that THEY will rebuild the ancient ruins and restore the places long devastated".
This new insight revolutionized my approach to the ministry of ending poverty. Instead of the poor just being passive recipients of the Gospel, the poor are called to rebuild and restore their communities! If you are a person of privilege instead of working for the poor you are called to work alongside the poor. And if like me you come from the ranks of the poor you are called to rebuild and restore your community.
This re-reading of Isaiah 61 is further supported by my work with the Poverty Initiative's Poverty Scholars Program. The Poverty Scholars program brings poor activist from across America to Union Theological Seminary. These scholars take part in an educational program of conferences, theological reflection and action planning centered on re-igniting Dr. King's Poor People's Campaign.
Members of the above quoted Domestic Workers United are nominated Poverty Scholars. "Founded in 2000, Domestic Workers United [DWU] is an organization of Caribbean, Latina and African nannies, housekeepers, and elderly caregivers in New York, organizing for power, respect, fair labor standards and to help build a movement to end exploitation and oppression for all."
The members of Domestic Workers United (DWU) are not only people of activism but people of faith. One member of Domestic Workers United is currently studying to become a minister. When members of DWU do educational/outreach sessions they do more preaching than speech giving. It only takes a few minutes of listening to these activist testify to see that God is central to this work and provides these dynamic women with the courage they need to organize while currently employed as domestic workers.
It is not unusual for DWU to protest in front of luxury condos in Manhattan while advocating for a member who was treated unjustly on the job. Stories of illegally low wages, verbal, physical, and even sexual abuse are not unusual for domestic workers across the country. This invisible, but essential part of our workforce is now becoming visible through the work of being the oaks of righteousness Isaiah prophesied about. In New York City alone there are over 200,000 nannies, caregivers, and housekeepers who are essential to New York City's economy.
When Lehman Brothers closed its doors, many domestic workers also lost jobs; the current economic crisis is further affecting this already venerable group. Currently DWU is advocating for the passage of a Domestic Workers Bill of Rights because historically domestic workers have been excluded from legal protections, face long hours, low pay and no benefits. "The Domestic Workers Bill of Rights (A628B, S5235) amends New York State labor law to guarantee basic work standards and protections: time-and-a-half for every hour worked over 40 hours per week; one day off per 7-day calendar week; and other basic employee rights that most of us take for granted. The bill provides a means of enforcing these standards in court (Domestic Workers Bill of Rights)".
Domestic Workers United is currently attempting to gain support from the faith community. DWU ask that "religious leaders reach out to any of their congregants that are connected to the domestic industry, and to speak in church about this issue". The faith community is essential to making the Domestic Workers Bill of Rights a moral imperative.
As a progressive Christian movement continues to solidify, it is exciting but we must not stop at "preaching the good news to the poor" because that is only half of the Prophet Isaiah's message, now we need to move into the second part of this word: standing beside the poor as they become oaks of righteousness and speak for themselves. Helping to support the work of Domestic Workers United is one way to do this.
Here are some practical ways you can support the work of DWU:
Attend the February 10th New York State Lobby Day- for more information contact: [email protected].
Encourage your church or organization to endorse the Domestic Workers Bill of Rights by going to www.domesticworkersunited.org where you can download an organizing packet.
Give information about DWU to a domestic worker you know.
If you employ domestic workers practice fair labor practices.
Speak to your church or organization about the Domestic Workers Bill of Rights
Volunteer, intern or donate to DWU-information on these options can be found on the website.
---
Onleilove
is a former Beatitudes Society Fellow at Sojourners. She serves on the Servant Leadership Team of NY Faith & Justice, is a nominated Poverty Scholar and a Faithful Democrats Fellow.