By Trey Lyon
One: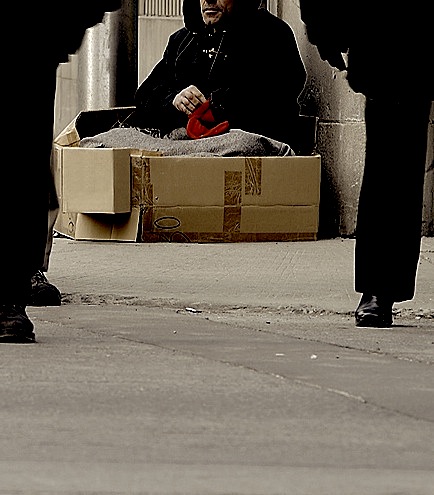 She was just lying there. Between the Fulton County Courthouse and the Cathedral. Half on a giant concrete planter, the latter half on a makeshift ottoman of old blankets, clothes, bags and a shipping dolly.
I watched as one of our college students pulled a pair of gloves over her arthritic fingers. That's when I really stopped and looked at her. There were hats and hand-warmers, candy-bars and cookies to be passed out to the other people on the street, but when I saw her try again and again to open a water bottle, I asked her if I could help. Her top layer of protection–an old wool trench coat, covered by an ugly gray packing blanket–was spattered with shelter stew one of the other guys-turned-care-givers had brought to her.
Her eyes looked barely human–dark as midnight, with no expectation of dawn. She couldn't talk, but nodded in approval. She nursed the water bottle like an infant–her lips solidly around it, refusing to let so much as a drop go the way of the stew stains she wore. And I didn't know what to do. She nodded in approval and placed the water by her side. I put the cap back on it loosely and headed down the street to pass out the rest of our supplies.
We met other people along the way, but none stood out like her. I couldn't quit seeing her eyes, equal parts fear and resignation. By the time the ringleader of our distribution efforts pulled the Volvo-wagon up to the curb, I knew one of those big blankets had her name on it. I ran across the street to where the car was parked illegally. I knew she had to have something to give her some more warmth–that old packing blanket wasn't enough. Forgetting to look to see the cars coming I ran back across, realizing I had grabbed the biggest blanket left, but being struck by the irony of the wires running through. There's little place for electric blankets on the street.
I saw those eyes again, and I wondered what kind of monster I might look like to a woman lying helpless on a tree planter. I told her I brought her another blanket and she nodded gracefully. "My feet" she muttered. I folded a corner underneath her to the makeshift pallet. I spread the top out only to realize how little good it would do. I folded it under as best I could while she shifted her weight to help tuck herself in. Suddenly I was struck by the fact that in attempting to warm this woman, I had no option but to embrace her. Not a handshake or a pat on the back, but a full-on, "only for loved ones" embrace.
And I thought I was going to lose it.
I don't know what kind of shape she's in. I felt powerless, impotent–all the things you feel when you just don't know what to do but you'd swear there's got to be more. There were people there to help her, I knew that–but it wasn't just their task–it felt like my task. And I can't quit thinking about her.
Two:

The young guy in the coat and jeans had a convincing story. A woman at the shelter a few blocks over was trying to get back to Virginia after coming to Atlanta for work, only to be scammed. All she needed was gas money. I was skeptical, but when he rolled up in an old Mustang with Virginia Plates, loaded to the gills with shopping bags and clothes, my skepticism lifted like a morning fog. She got out with a thick Colombian accent, matching the story he told us a half-hour before. She said all she needed was gas money and directions. She knew how to get home from I-64 East, that it took about 10 hours to get there, but that was it. We did some quick math and figured out 2-3 tanks of gas should get her there.
I started thinking where the nearest gas station was, and whether or not I had the church credit card on me. The other adult with us pulled out his wallet. While I was still trying to think how to get to the BP on Spring Street, he had counted off five twenties to hand to her. He put it in her hand and she nearly missed it. In a frenzy of tears and excitement, she grabbed him–the kind of big bear hug only a mother can give. She swore she would send it back when she could. She said she was alone and didn't know anyone in Atlanta, but she had a base there.
I pulled out the cell-phone GPS and put "Virginia Beach, VA". She wrote the directions on the back of his executive business card. We went on to grab some lunch, wondering how far she would get–if she could make it home, if the directions were good, if that guy would try and take advantage of her or the money. There was no guarantee, but it felt right.
I was sitting the youth room yesterday morning when his wife came in. "That lady ya'll helped called him this morning. She made it. She's back in Virginia! She said she'll be okay, some friends are helping her and she wants to send the money back a little at a time."
And I realized that I had been a skeptic. Skeptics don't embrace.

Continued in: From Exclusion to Embrace, Pt. 2: Three stories of poverty and compassion
---
Trey

is a minister/writer/techno-geek/observer/teacher/wanna-be social activist living in the suburbs of Atlanta, Georgia.