By Shanelle Wenell
As I sit here reading Mother Teresa, from a distant view it seems unattainable to become as humble in spirit as her, as willing to do the work of Christ as she. In my flesh I wonder to myself if her ways were absurd, even out of balance, unhealthy. Yet as I read her words it seems I am the one who is out of balance and absurd, self indulgent and full of myself rather than selfless.
Saint Francis said, Each one of us is what he is in the eyes of God-nothing more, nothing less. We are all called to be saints. There is nothing extraordinary about this call. To think this quote through is difficult, profound, and absolutely full of truth.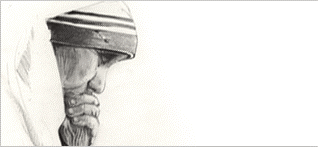 When God looks down from heaven, he doesnt look at me and value me over a child dying in Africa. He didnt bless me, and let them suffer because his love for me is greater. In fact the same Christ he sent to die on the cross, died not for me alone, but also for that child somewhere in Africa.
Often times I think how can I have so much, and they so little? I rationalize God has blessed me more and cares for me more. How un-biblical and self-righteous.
Luke 12:48 The man to whom much is given, will have to give much; if much is given into his care, of him more will be requested.
I know the character of Christ is to give to the poor, to help your neighbor, and yet do I give the way Christ would ask me to give? Mother Teresa did.
In her book No Greater Love she says:
Sometimes the rich seem very willing to share in their own way, but it is a pity that they never give to the point of feeling they are in needI dont want you to give me what you have left over. I want you to give to from your want until you really feel it. (P43).
I think that a person who is attached to riches who lives with the worry of riches, is actually very poor. However, if such a person puts their money at the service of others, then he or she is rich, very rich.
Some of you read this and cringe at the idea of starting to give and to give sacrificially until it hurts, some of you wonder where to start. Mother Teresa tells a story of a woman who wanted to work for her cause and how she taught her to start. The woman confessed she loved Saris (an Indian garment). She wore very expensive ones. Mother Teresa told her to start buying cheaper ones and to give the money she had left over to the poor. The woman went from spending 800-rupees to 500 and finally to 100-rupees; Mother Teresas Sari was 8 rupees. That small step changed the womans life dramatically as she gave away what she wanted.
If we are to love as Christ did and to see we deserve nothing more or less than our neighbor in the eyes of God, we must start somewhere. Those who have a mission of giving to others first must grow in the knowledge of God (p. 46).
Dont be afraid. There must be the cross, there must be suffering, a clear sign that Jesus has drawn you close to His heart that He can share His suffering with you. Without God we can spread only pain and suffering around us. We all long for heaven where God is, but we have it in our power to be in heaven with Him right now, to be happy with Him at this very moment. But being happy with Him now means loving like He loves, helping like He helps, giving as He gives serving as He serves, rescuing as He rescues, being with Him 24 hours a day, touching Him in His distressing disguise. Jesus is going to do great things with you if you let Him, and if you dont try to interfere with Him (pp. 58-59).
2 Corinthians 8:9 says, For you know the grace of our Lord Jesus Christ, that though He was rich, yet for your sake He became poor, so that you through His poverty might become rich. Our Christ gave everything up for our sake to the point of His death. Give yourself to Him that He might teach you how to give.
---

From our friends at Prodigal Son Magazine – a dynamic men's portal site for men of integrity. It aims to be a cornerstone for Christian men, a place for men after God's heart to find informative, relevant, cutting edge information on lifestyle, relationships, career, pop culture and their walk with God.
Shanelle and her husband Jason share their home with their two babies, a great dane named Auzlan and a Persian cat named Majubean. They edit and run Prodigal Son online magazine.