By Karen Swank
Some days, it's hard to get out of bed.
My parents are two of the hardest working people I have ever met anywhere, anytime. I grew up in a household of purpose and intention, and "slacking" was something that simply could not be considered. Sleeping in was reserved mostly for when we were sick. Now don't mistake me here – I didn't grow up in some labor camp. We knew how to play, and we were encouraged to volunteer and just generally participate in our community. We read good books, too, and ate at the dinner table pretty much every night, talking about our days, about politics and religion and what we learned in school. I guess the key word here is that we were active. Consistently active.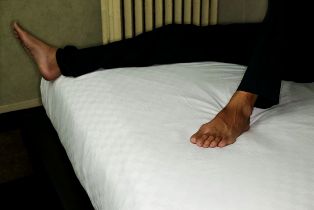 So I had some very good habits trained into me, which was part of how I got that "good kid" label even when I was up to a lot of very much "not so good" behavior.
I got married a couple of months after I graduated from high school, moving from the farm to a college town and finding myself suddenly without the whirlwind of inspiration, accountability and admonition that had driven me daily as I grew up. Without the good example of my parents constantly before me, my good habits fell away, and I sank into a different mode.
Thus, my twenties were a time when life showed me oh-so-clearly the difference between good habits and fundamental character. I discovered the laziness in me on a whole new level. I discovered that while I could still work hard enough to gain others' praise when I wanted to, I could also sink thoroughly and utterly into an abyss of inactivity. When life got scary or hard, I could curl up under the covers and just refuse to come out. Whole days in bed, not sick but just sick of life – I learned to revel in them.
When staying in bed wasn't an option, often hanging out on the couch was. Creating my comfy corner with pillows, blankets, snacks, the remote control and the cordless phone, I could camp out for hours at a time. My blanket was my barrier, protecting me from the reality that I really didn't want to deal with. My favorite days were the ones when I never so much as poked my head out the door. I drew my world in around me tightly, and while I was not at all impressed with who I had become, I had every excuse in place to defend myself from any proposal that change might be in order.
Life has been a series of trials and adventures since that time, and my world looks pretty much nothing whatsoever like it did back then. In His infinite grace and mercy, God has been faithful to push, pull, coax and flail me out of myself and headlong into Him, and I wouldn't go backward for all the money in the world.
Still, some days it's hard to get out of bed.
Spiritual warfare is a glamorous term that has drawn me since the first time I heard it. It creates pictures in my head: the laying on of hands, casting out demons, and miraculous healings. A stoic yet passionate warrior pacing and calling heaven down into the here and now. Speaking out bold truth in the face of all that would squash it. These are the images and ideas that brought me running, seeking to know the deepest truths therein.
But the truth is, some days warfare looks nothing like any of those images. Some days, for some of us, the battle looks like this:
…push back the covers…
…swing your legs over the side of the bed…
…and get up.
It's not glamorous. It won't win you any prizes. People won't be awed by your power and might, praise you or even notice it at all. None of that changes the fact that it's a battle sometimes hard won – that the enemy of us all presses that blanket so securely up to our chin and tells us today is too hard – better wait and try tomorrow.
"We are such simple creatures," a Very Wise Friend shared with me yesterday, "that Satan doesn't need very many tools to use against us. Two or three will take care of almost everyone." True, that! Today, perhaps your battle with him is the simplest, yet hardest thing of all:
Stand up.
If you liked this article, check out: Life with Benefits
---

Karen is from Aledo, IL. She went to Monmouth College and studied Latin and English. She is a biological mom of two children and surrogate mom/friend/advocate for a whole host of children. She would like to meet every wounded soul that I've she's ever known… as a child, before the "damage was done" so she could tell them how much they are loved.