By Naomi Silseth
The ocean seems a perfect place for thinking. Something about the open endlessness and the never-changing, yet ever-changing waves lulls one into a meditative state of mind. This trip to the beach was no exception. Over the course of the first day, I had thought about a succession of subjects: from the state of the world to the state of my life, from the past to the future.
I left my chair and began strolling down the sand. On my mind particularly was a picture Id seen in a magazine. The guesthouse had a small stash people had left, the only English one being the Indian version of Marie Claire (much, much more tasteful than the Western version). A photo essay had caught my attention: Food for a Week. Families from various countries were photographed in their house with all the food they ate in a typical week. A mother and three children in a refugee camp in Darfur, Sudan squatted in front of their tent with a 2-kilo bag of rice, a liter or so of oil, and a few small piles of spices or dried meat. Thats it.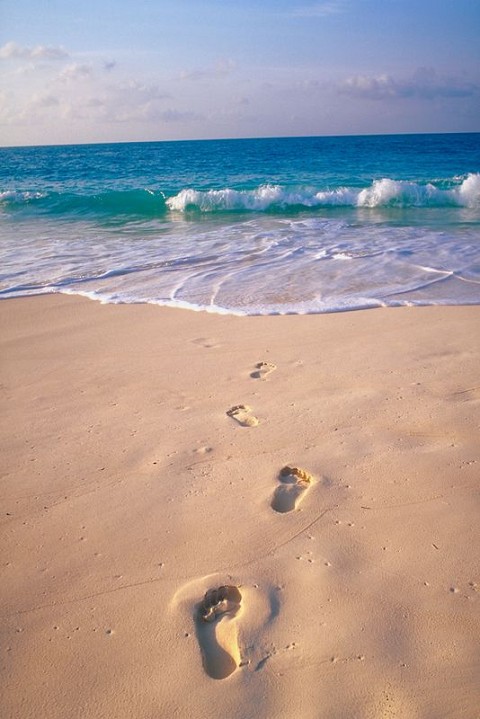 How can I help them? What can I do? I want to make the world a better place, and not just by giving money. What can I do as a young girl with no experience?
For that matter, what should I do about my contract? Should I keep teaching indefinitely? How long should I stay in China? What about the other, more personal questions that had been vexing me?
I walked on, stewing more and more, and working myself into an emotional frenzy. Then I saw it. I bent down, gently prying it out of the sand and carefully rinsing it in the next wave. A seashell, still hinged and open like a butterfly, the inside a deep amethyst, the outside an abstract design of tan lines on a cream base. Perfect and so beautiful.
And I remembered Gods promise to me.
On another beach, far away and several years ago, I had been sitting, staring at the ocean and contemplating college choices. Financial aid packages, majors, accommodations, jobsat the time it all seemed so overwhelming. I stared down at the sand in frustration and confusion, my eyes scanning the jumble of items that had washed up on shore. Somehow it caught my attention: a small shell, no larger than the nail on my smallest finger. It was perfectly formed in the shape of a mountain peak, with elaborate designs wrought in shades of brown on its slopes.
Gods gentle whisper breathed in my heart: Look how tiny the seashell is, yet see how beautifully I have decorated it. If I care enough to paint the smallest shell in the sea, then surely I care so much more for you! Trust me. I love you; I will lead and guide you.
A great peace descended on my heart.
Last winter found me on a beach in Vietnam, once again staring out at the sea with troubled thoughts. Once again I contemplated the future with confusion and fear. Abstractly sifting through the sand, I found a shell that had been neatly sheared in half, revealing the elaborate chambers within.
Once again God whispered: Remember what I promised you on that beach in Honduras? Remember how I have always led you and provided for you?
I remembered and praised, and peace filled my heart.
Once more, on the beach in Myanmar, God-in His personal and romantic way-had reminded me of His great love for me and the surety of His guidance. I walked down the beach laughing and crying and singing, my heart overflowing with a peace that is beyond understanding.
For I know the plans I have for you, says the Lord. They are plans to prosper you and not to harm you, plans to give you a hope and a future.
---

Whenever people told

Naomi

that she should be an English teacher when she grew up, she always laughed at them and said, No way! Too boring! But God has an amazing sense of humor. Instead of getting an international business internship as planned, she was forced to take a job teaching English at a university in Beijing, China…and found that she LOVES teaching! After four years of teaching, she is now trying to join the Peace Corps and move to Africa.