By Brooke Luby
I was sitting on an airplane the other day, flying back from visiting a friend in Colorado. Airplanes are the best places for me to think. I stare out the window, thousands of feet above the air, and think about my life. It's like the physical height reflects my mental or spiritual height — I am able to see differently, looking down on earth below.
I thought about life and the beauty I have experienced and the mistakes I have made. The mistakes seems less significant from this high above, though. I thought about God and how big His love is, and was gripped for a moment by that nearly tangible feeling — like He was right there, keeping the wings of the plane suspended in the air, keeping my heart in a place of peace.
Above the earth, I realize that we are all people and we are all filled with terrible longings and unfulfilled desires, that we all just want to be loved.
In our search for love, we do crazy and reckless things. We search in bars and the internet and the church and in people just as broken as ourselves. We want this love so bad, but when we try to gain it outside of The One Being who is love, we are cheating ourselves.
I remember being a insecure and scared fifteen year old, giving away my virginity because I wanted to be "loved," because I thought I was the only one who hadn't, because I just didn't care about the consequences anymore. But deep down I cared. Too much. It's miserable knowing that you are cheating yourself, but believing the lie that that's all you will ever get. You begin to think that you may as well take what you can get, because life is harsh and people will use you no matter what. I can hardly believe that was ten years ago.
By the grace of God, I now choose to wait until I am married, not just because "it's the right thing to do" as a Christian, but I am able to see what sex is more clearly. This physical obsessed world may call me crazy, but I have to believe the act is not just an act, but a fusion of hearts- an expression of love to that one person you are safe with. This is why It's sad when people treat sex as some sort of currency. They became so jaded at the spending and using till it isn't worth anything anymore.
Magic is reduced to science.
Soul to soul becomes just skin to skin.
What God created as good, beautiful and mysterious, becomes cheap, vulgar and uncovered.
Throughout the Old Testament, there is this crazy and perhaps offensive symbolism of us as the church being a whore. Running from God, the ultimate lover, to others that just use and abuse. We trade true love for temporary satisfaction, a lifetime commitment for a casual moment- breaking the heart of God, but we are breaking our own hearts as well. I get the feeling it may not be so obvious as blatant fornication. As most things, it's always going deeper then just the physical. We are good at divorcing the body with the soul and sprit, but it's clear they are all intertwined. What we do to one affects the other. It's easy to be distracted by the physical and forget the emotional spiritual roots certain decisions have.
As Christians, we have the bad habit of outlining sexual sin in red and ignoring the heart issues that make us do what we do. Our history is tainted by scarlet letters handed out instead of grace, rocks being thrown instead of forgiveness extended. We are quick to see ourselves as closer to heaven when we abstain from these "sin of all sins," but the irony is, in our self-righteousness we can be further from God then the tired prostitute. Jesus was quick to proclaim this kingdom truth in the things he spoke and the people he spoke too. You may think you are holy because of what you do or don't do, but true holiness is a heart issue- and it only comes from His spirit living in you. We love because He first loved us. We are able to be whole because He is whole in us. There is a mystery in the unity we have with Christ, a mystery that can only be likened to the oneness of a loving marriage.
We cheat ourselves when we attempt to have these cheap encounters with God through a series of meaningless rituals. Religion is all about the act void of intimacy. It says do this and you will be loved, instead of do this because you are loved.
I know people that have slept with so many people it ceases to mean anything. Sure, maybe it's a thrill for a moment, but in the end, nothing is ever enough. It's not just about sleeping around though. A good Christian couple could be physically close but emotionally distant, and cheat themselves out of the fullness of what God intended. I have been to too many churches that are completely void of any life. We talk about going through the motions, but we can't seem to get past our religious tendencies so deeply engrained in us. God is a distant deity to appease at worst, a hard husband that loves us but expects too much of us, at best. We try to make love happen, but it's never enough.
But what is? Yes, relationship over religion, we have all heard that. But what would walking out an intimate and emotionally fulfilling relationship with our God look like? I guess that's the journey we are all on. We talk about passion and intimacy, and it scares most people. It scares me. Yet I know I was made for it. I was made to be one with God, as every human being was.
We were made to find ultimate pleasure and fulfillment in this reality. To bathe in complete and total love. To be honest in every way. To be okay in our own skin and know we are beautiful and accepted. We don't need to dress up or dress down or show parts of ourselves to try to gain attention. We don't need to fake it, to go through a tired ritual attempting to find ourselves in a fleeting moment of plastic pleasure. We have the real thing.
---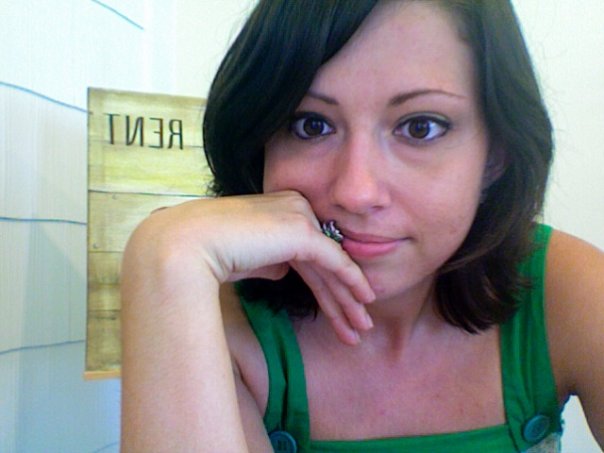 Brooke lives in the middle of nowhere in east Texas, trying to live, understand, and write about grace. She makes great pasta salad. Check out her blog.