By Jon Sontag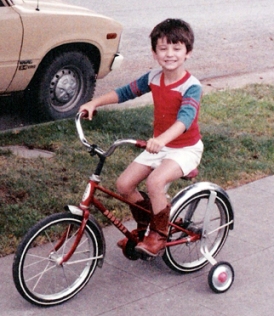 When I was five years old, I wore cowboy boots. No hat, no gun, no sheriff badge; just the boots. Id wear them on camping trips, beach trips, bike rides, and even sometimes to bed. It didn't matter to me. All I wanted to do was experience the Wild West up my feet.
But eventually, the soles wore paper-thin. I started slipping and sliding all over the place, and my mom decided it was time to retire my little leather-bound companions. I remember not wanting to give them up. It was like losing a little piece of my childhood. By age six, those boots had been with me for a lifetime.
I moved on and fell for a sassy pair of Transformer shoes. They had Velcro. However, to this day, I have yet to find a pair of shoes that could compare with those rugged boots. They made me feel as if I had died and gone to heaven. They were holy. In fact, Id argue that they were actually fitted with the readiness that comes from the gospel of peace. It sure felt like it.
Lately, Ive felt this way about the Church. Not this church or that church, but rather, The Church, you and me, those of us who want to know Jesus more and more. I currently gather with some wonderful people at Vintage Faith in Santa Cruz, CA. Its a great place. Our hope is to become missional theologians, to understand and do what the scriptures actually say, trying to bring peace and restoration to this world.
People in this community seem to be going through a process. As they grow, G-d sizes up their feet, fitting them with shoes tough enough to handle this long, but incredibly significant journey. They are purposely living out a new understanding of who they are, and who Jesus is in them. Theyre excited, and somewhat impatient, about peacefully restoring this world through a gospel that speaks of the Kingdom of Heaven.
Jesus reveals himself to us each and every single day. I can feel it; I can see it. Just look at what is going on in this world, and the awareness that lives and breathes with hope for a new day, a better day; Katrina relief efforts; Micro-financing; Blood:Water Mission.
Of course, injustice and despair continue to claim hearts and lives, but we are approaching the face of G-d. Jesus is coming back through those of us who strive to live as He lived. Let us continue to gather together, pray together, and share together. Let us further the process of turning the church into The Church; a family that will not rest until we see all of G-ds creation restored through love and peace.
If a simple, worn-out pair of cowboy boots could mean the world to me, imagine what a group of simple, worn out, broken people like you and me could mean to the world. The Kingdom of Heaven is truly at hand.
---
Jon Sontag spent a few years playing music and touring the country in various bands during his early twenties. He's now living in San Jose, CA, and is involved with a community called Vintage Faith in Santa Cruz, a group of people trying to figure out what it means to live as "missional theologians."
For more information on the groups mentioned above, check out:
Vintage Faith Church
Blood:Water Mission
Kiva