By Joe Bunting
I am sitting in my mom's office, which used to be my bedroom. Last night it was my bedroom once again, and today it is my office. My housemates and I, along with 30,500 others in Santa Barbara, have been evacuated. The Jesusita Fire has now burned 3,500 acres. The officials say it has been 10% contained, but to us that seems an arbitrary number. Ninety percent of a fire can still displace thousands of people.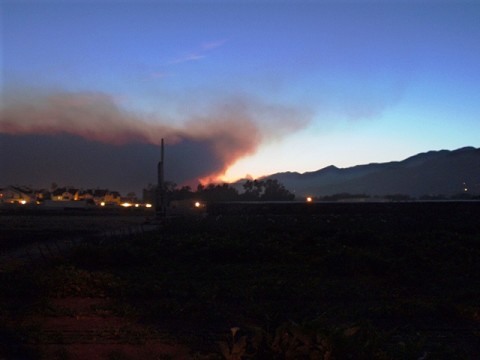 Evacuation, for me, was quite a simple affair. I was out of the house, helping serve dessert to students at an end-of-the-year function at Westmont, my alma mater. A few months ago, in November, another fire, the Tea Fire, ravaged Westmont's campus leaving five buildings burned. While I was on campus, I took a picture of the Jesusita Fire with the Tea Fire-scorched trees in the foreground.
By the way, did you know there are some people who are citizens of heaven? Though they might be evacuated from home after home after home, they are always home. They were never at home in the first place.
I was planning on visiting my parents only a few miles south afterwards, and when I got there, my housemate called to tell me our apartment had been evacuated. There was no way of getting home to grab any of my things Fortunately, I had already packed almost everything I wanted into my car: my laptop, a few days' worth of clothes, and a bunch of books. The one thing I didn't get–the thing I will truly miss if my apartment burns–was my beautiful Tacoma guitar. In Carpinteria, I stepped out of my car to see the sunset obscured by the Jesusita Fire's plume of smoke. [See the picture above.]
This morning I called work to see if the office was opening for business. It was closed, evacuated as well. Then, at around 9, a good friend from Westmont called in tears.
"We're getting evacuated," she said. "They're giving us until noon to get out." Westmont was, for the second time this year, being threatened with fire.
"Have you gotten a hold of your parents?" I asked. Tomorrow, she is scheduled to graduate. Her parents are in town from Washington to celebrate with her. We dare not think about what will happen if the fire cancels those plans. Fortunately, the ceremony is being held on another side of town.
"No, I haven't been able to get a hold of them."
"Shoot…"I said. I thought; I calculated. "Do you need someone to help you pack your things?"
"Well, yeah, but you don't have to," she said, still crying.
"I'll be there as soon as I can."
I borrowed my mom's car, a Toyota Highlander, which is a little better for packing boxes than my two-door Honda Civic, and drove toward Westmont. My heart was beating as I drove toward the shadow of that eerie plume of smoke which hung in the air and blocked out the light of the sun.
When I got to Montecito, the roads were barricaded by police. I drove up and down the hills of the small, wealthy town, looking for a road that had been missed by the police. I didn't find any. The four entrances I knew were blocked.
In defeat, I called my friend.
"I can't get up," I said. "The roads are barricaded."
"Oh, they just started letting people through if they're picking up Westmont students," she said.
"Awesome! Alright, I'll be right there."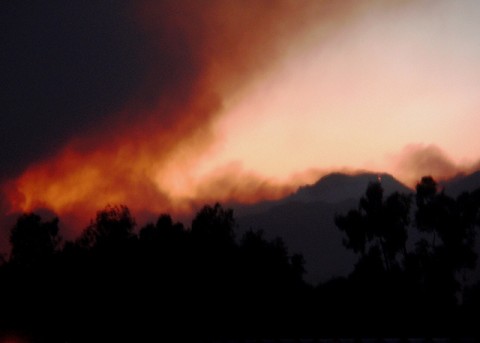 When I got to Westmont, it was a madhouse. Parents were parked everywhere, blocking the roads. Students were going back and forth from the residence halls to their cars in the parking lots. The campus shuttle was evacuating students who didn't have cars.
I helped my friend pack and then helped three other friends. By 11:50, when we left, almost everyone was fully out of their rooms with all their belongings.
And so now here I sit, at home–well, my parent's home–at what was my home for 21 years. My cousin is here too. He was evacuated from his home, went to a friend's–which ended up being evacuated a few hours later–and then went to another friend's–which was also evacuated. He was evacuated three times. Now he is sitting in the living room watching the news.
I am at home.
Did you know there are some who are citizens of heaven? Though they might be evacuated from home after home after home, they are always home. They were never at home in the first place.
I would like to live like this. Today I am getting a small chance.
---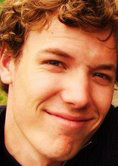 Joe lives in beautiful Santa Barbara, CA. His claim to fame is that he once got seasick just watching a boat rocking in the ocean. He wasn't even in the boat; he was watching the boat! In August, Joe is going on the World Race where he hopes to sound his barbaric yawp from 11 different countries all over the world. He also writes on a blog.