By Jeni Griffin
"Oh my gosh, these are amazing!" I exclaimed as my mom gasped at me in horror. After being in Africa for a year serving with Mercy Ships where the humidity is constantly 80-90% or more, stale nacho chips were a norm, so the bag of semi-stale chips seemed fantastic to me!
For the first several months of living back in the States, all food seemed overwhelmingly incredible, as we were accustomed to only a small variety of foods mostly revolving around rice.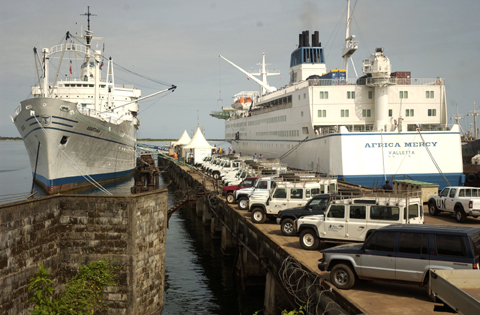 I remember thinking how miserable the food selection was when I first arrived to Africa, but after several months, I began to have a totally different outlook. I was grateful for any food, since the scorching heat works up massive appetites, and I actually came to love all of the rice meals.
As the world of materialism and vast amounts of choices are taken away, you experience what a lot of the rest of the world is thankful for and you realize why.
I become so angry listening to Americans complain about how our newest craved item is not stocked properly on the grocery store shelf, how Starbucks is out of the salt for a salted caramel hot chocolate drink, or how horrible the weather is, and my heart breaks as I realize that I am right there complaining with them. How quickly we forget what we have seen or been through people are starving to death. People are thankful for the one small meal they may get a day if they are so-blessed, and I'm complaining about a traffic jam while sitting in my heated car listening to my favorite CD. What is wrong with this picture?
We feel that our world is shattered when we can't find a pair of new corduroy trousers that fit properly after searching hundreds of different stores. Do we stop to think of how thankful we should be to have a job so we are able to afford such luxury items? Do we think of how much of the world doesn't even have one store, let alone the hundreds surrounding us, or the option of buying items over the Internet that we have? Do we consider that one more pair of trousers jammed into the already-full wardrobe is probably not a necessity?
Most of us can't even be bothered to donate our old clothes for a worthy cause, let alone buy a new, decent item for someone in need… someone who may have no trousers, no shoes, not even water. Yet we become angry if we can't get our newest desire, because we feel we deserve anything and everything.
It's sickening to see the priority Americans put on their pets watching people stock up on over-priced pet foods, toys, clothes, beds, and hearing about the vet bills they are too willing to pay for their precious FiFi. Granted, pets can be great companions for people, but people are dying… and I feel like screaming, "How is this okay?" How is it right for us to spend so much money on animals when children and people around the world are dying of thirst, hunger, and disease when we easily have the resources to save them, but lack the motivation to do anything about it?
To top it all off, we refuse to thank God for all that He has blessed us with, which just furthers the dreadfulness of it all. One of the hugest impacts the Africans made on me was the way they praised God how thankful they were for the "many blessings" He had bestowed on them, whereas in American standards, their lives and so-called "blessings" would be grounds for having a complete hatred and bitterness toward life. We would be so horrified at living in such conditions that we wouldn't even be able to handle a single day of it. Yet they are dancing and praising God for everything. How? Knowing that the resources are out there, that people could help, how can they be thankful while watching brothers, sisters, parents, friends die because the help doesn't come?
If we took a moment each day to thank Him for one thing he has blessed us with, how many days would it take for us to run out of things. How many years? Or, if we took one day and began thanking Him for all that we have, would we even be able to finish the list in one day? To what extent must God's heart shatter at our repulsive priorities, our lack of motivation to care about or help the rest of the world, or to watch the way in which we go through a day thankless of all of His blessings to us?
I can't even imagine.
I think I care, and my heart breaks over all of this, but then a moment later I'm complaining about the cold weather as I drink my hot chocolate and curl up in a blanket.
---
Jeni

works for the Cleveland Clinic in northeast Ohio and enjoys helping out on her family's farm back in the country. She loves watching Christ work in people's lives and wants to be available for His service at all times and everywhere.