By Laura Jacobs
From Kenya:
"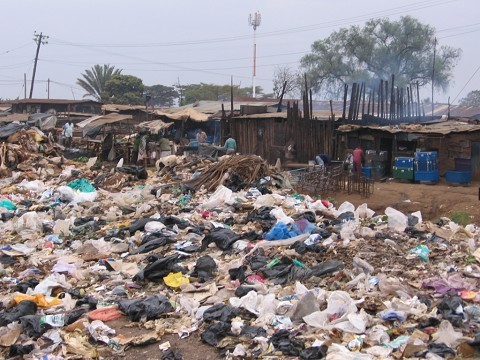 He who loves money will not be satisfied with money, nor he who loves wealth with his income, this also is vanity."
As we have walked around Kibera, sharing the Gospel and encouraging the believers, we've run into one central problem – money. No one has enough; everyone needs more. Unfortunately, our white skin sticks out and screams wealth to the people of Kibera. We've become beggar magnets.
And to a certain extent, it's true. My old lifestyle was probably double or triple the price of the lifestyle around here. My old lifestyle was incredibly extravagant in comparison. I can understand why these people come to us.
I have never lived under a roof that leaked when it rained. I have never gone without a meal because I couldn't afford anything to eat. I have never chosen my toy from a pile of garbage. I am well provided for, thanks to wonderful family and friends whom God regularly provides through. I have never known true want like we live among here.
But I have learned something here. You don't have to "know want" like Kibera to have money problems. We went to a wealthier (as compared to Kibera), westernized church today and heard a sermon all about money. Even the people of this church…. who all have houses, electricty, running water… all their needs and wants… aren't satisfied. They are spending weeks and weeks learning how to earn money, save money, and increase their wealth.
So whether you are an unemployed single mother in Kibera or a wealthy land owner in Nairobi the theme song remains the same… Never satisfied…
And in comparison what does God offer? What is my response to this? What do I do with the beggar on the street and the rich man in church? God has the same message for all:
"Come, everyone who thirsts, come to the waters; and he who has no money, come, buy, and eat! Come, buy wine and milk without money and without price. Why do you spend your money for that which is not bread and your labor for that which does not satisfy? Listen diligently to me, and eat what is good, and delight yourselves in rich food. Incline your ear, and come to me; hear, that your soul may live; and I will make with you an everlasting covenant, my steadfast, sure love for David." –Isaiah 55:1-3
Is this a promise of God to provide wealth for all those who accept Him? What is rich food? What is this nourishment that causes the soul to live?
It's the message of Christ. Christ came among the poor and the destitute. Christ came among the rich and the affluent. And He came with one message: "You need Me."
That has to be my message, too. I can provide a loaf of bread that will last a few meals or I can provide the bread of life which lasts through eternity. By God's grace sometimes I can provide both. But the latter definitely carries the weight of importance.
"Keep your life free from love of money, and be content with what you have, for he has said, 'I will never leave you nor forsake you'." –Hebrews 13:5
That's the key right there. That's the message: He's alive; He's here. And He wants to be with you forever. That's my mission; that's my message. And that's my hope for all eternity.
When I stare real poverty in the face, knowing that my feeble efforts may barely make a dent in the real problem, that message gives me hope. And that hope is easily shared. That is the "rich food" that can sustain any family much longer than a loaf of bread. That is true "sustenance". That's why I'm here.
---
Laura is from Abilene, TX. She went on the World Race in 2006 and now works for Adventures in Missions. This story is from her travels around the world. Follow her blog to read more.